Mail and Safari
In keeping with the Snow Leopard theme, there are only minor changes to other applications - performance was the major goal here. I found the Mail application certainly benefitted from this.
After upgrading, Mail will offer to convert your mailboxes to the app's new format, a process which I found to be much faster (on the Xeon) than earlier transitions.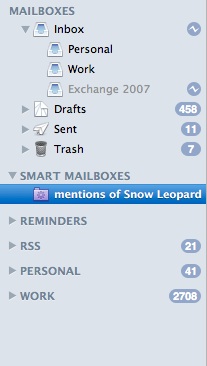 No great UI changes in Mail
Mail now supports Exchange 2007 servers, something that Windows doesn't do. Come to think of it, Microsoft is dropping an email client from Windows altogether for Windows 7, you have to download the old Outlook Express software, now called Live Mail, separately.
I couldn't test Exchange 2007 support because I don't have access to a suitable server, and while Zimbra 5 can ape an Exchange well enough to use with iPhone's push email, Snow Leopard didn't want to know.
The whole Exchange/Zimbra/Apple compatibility picture is really complicated and a little confused at the moment, so we'll set that aside for now.
Safari is evidently Apple's showcase for the benefits of Snow Leopard - even though Safari has been in public beta for six months now.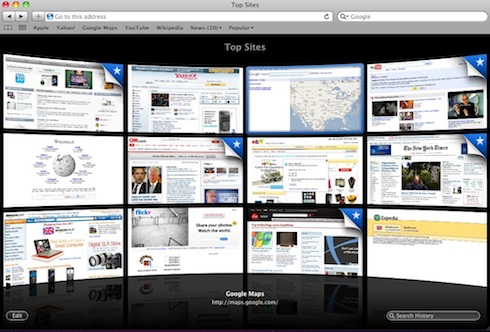 Safari's version of Opera's Speed Dial is called 'Show Top Tabs'
You can see why as soon as you try it - it's blazingly fast. It's a credit to the Apple engineers who have raised the stakes for other browser manufacturers. It's certainly good enough for newcomers to the Mac, but not enough to tempt me from the Rolls Royce of web browsers, Opera, which has too many essential usability features. Speed isn't just about rendering a page, but letting you get to information quickly, and rapidly switch between pages too.
With Apple's excellent scripting, Safari makes a capable workhorse for grabbing and manipulating web data. Here's a peek at the Safari library: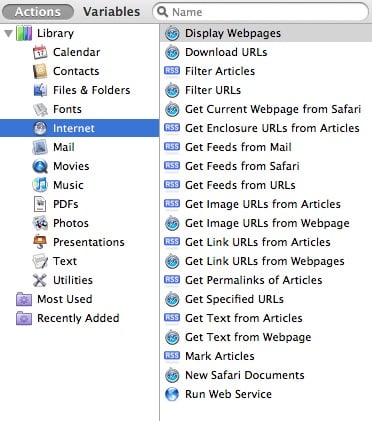 Get scripting: Safari's events library