This article is more than 1 year old
Asus UX50V
Easy on the eye, but not on the wallet
Review Think stylish laptops, and brands such as Apple, Sony and, if you've a particularly bizarre sense of style, Toshiba's Qosmio range spring to mind. Having pioneered the netbook revolution, Asus is more likely to conjure up images of small, portable and good value laptops. However, the Taiwanese giant has always had a penchant for eye-catching laptops, such as its Lamborghini range and the slightly more peculiar Bamboo model.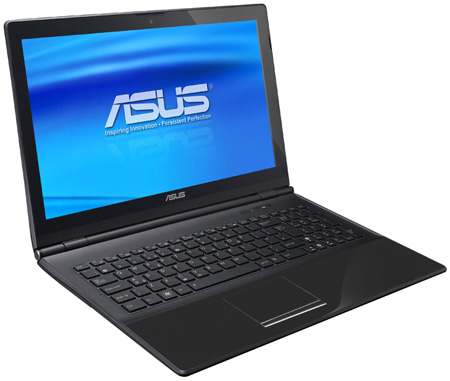 Asus' UX50V: all that glitters…
The UX50V is its latest attempt at creating a laptop for those who like to stand out from the crowd. It features a glossy 15.6in display with a 1366 x 768 resolution, delivering a 16:9 widescreen aspect ratio. It is powered by a 1.4GHz SU3500 – an ultra-low voltage, single-core CPU from Intel's Core 2 Solo range. A more powerful Core 2 Duo SU9300 version of the UX50V with a 500GB hard drive appears on the UK web site, yet Asus tells us this isn't actually available in the UK, so we're stuck with the Core 2 Solo model.
According to Asus, the UX50V's design is inspired by that of a butterfly with the view that it, "resembles the curvature of the wings of a butterfly once opened". Jokes aside, we're assuming Asus isn't serious about this butterfly thing, as the company has done well in creating a slimline chassis, measuring 29mm at its thinnest point. But at 2.6kg, it's a long way from the realm of ultraportables, or butterflies for that matter.
In an effort to preserve the UX50V's good looks, Asus has opted to lump the majority of ports at the rear of the chassis. These include two USB, audio in/out, HDMI-out, Gigabit Ethernet, VGA-out and the power socket. Although this design keeps all those ugly wires out of view, it also means you'll keep knocking them when the UX50V is resting on your lap.
Asus has found room for a further USB port and a card reader on the left side of the chassis, but these are both hidden behind a rather pointless plastic flap. You also get a Wi-Fi power switch on the left, while a DVD writer of the slot-loading variety is the only blemish on the right side.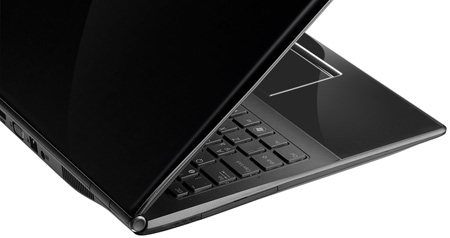 Backside lash: interfacing for most peripherals appears the rear
Asus has gone for the chiclet-style of keyboard, with each key poking out of its own individual slot in the chassis. It looks good, but initially we struggled to type at any sort of speed without frequent slips onto neighbouring keys. After a day or so of extended use we became more accustomed to the design, but our fingers never really felt at home.