This article is more than 1 year old
Asus UX50V
Easy on the eye, but not on the wallet
A numeric keypad is squashed on to the right side of the keyboard, with the keys measuring just 11mm wide. Although it's a nice feature to have, we feel Asus would have been better off ditching it, thereby affording more room to the rest of the keys. The inclusion of this numeric keypad results in the arrow keys being too small – the right arrow key also has a larger gap between it and the rest of the arrow keys, which causes further problems.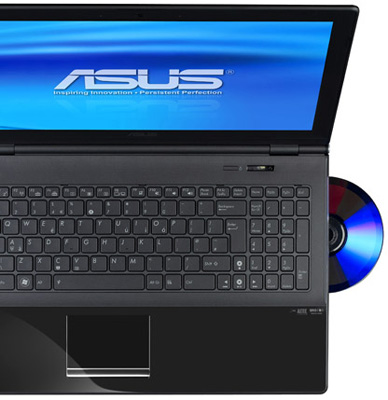 The keyboard would have been better without the numeric keypad cramping it
The numeric keypad is also susceptible to a large amount of flex, although Asus assures us this is a problem with only the pre-production model it sent us. Another issue, we're told will be fixed on retail versions, is the power switch. On our sample, it required a curious rubbing motion to operate.
The whole keyboard is backlit and able to automatically adjust its brightness according to your surroundings. The UX50V's display performs a similar trick, and both can be overridden if required.
It's hardly surprising Asus didn't want to blight the wrist-rest with a textured trackpad, but the result is a trackpad that's less than perfect in terms of usability. Not only is it hard to locate the scrolling zones without looking at it but, unless you've a very light touch, it doesn't feel particularly comfortable to use.
Our biggest criticism, however, is reserved for the trackpad's buttons. Taking the form of a single rocker bar with a light-grey metallic design, it complements the overall design of the UX50V but, being recessed into the chassis, far too thin and with a spongy feel, it's incredibly frustrating to use.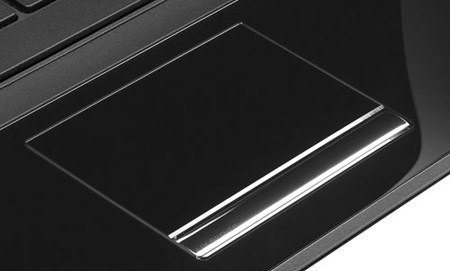 A nice touch? We're not convinced
Wi-Fi, courtesy of Intel's Wifi Link 5100, and Bluetooth make up the wireless connection options, while a 320GB hard drive provides ample storage and comes with Vista Home Premium preloaded.