This article is more than 1 year old
Asus UX50V
Easy on the eye, but not on the wallet
Should you be in a hurry, the Linux-based Express Gate OS can be booted in under 10 seconds and provides access to applications such as a web browser and a media player. Although Express Gate booted fine on our review sample, attempting to run anything resulted in the OS stalling - Asus tells us retail versions won't be blighted by this problem.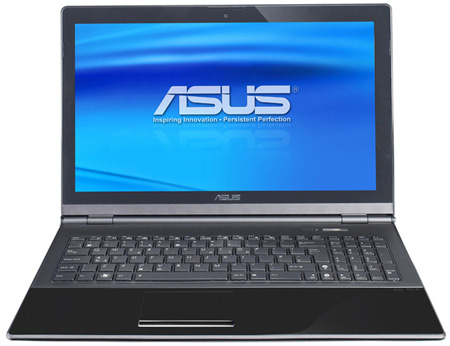 Powered by an Intel Core 2 Solo, no Core 2 Duo option for UK customers
Scores of 2408 and 2370 in PCmark05's CPU and Graphics modules respectively held the UX50V's overall PCmark05 back to a rather lacklustre 2602. In 3Dmark06, the integrated Intel GMA 4500MHD chip could only power the UX50V to a score of 642 at its native 1366 x 768 resolution.
However, thanks to Nvidia's Hybrid Graphics, it's able to unleash the awesome power of the Geforce G105M behemoth. Yes, sadly we've let sarcasm get the better of us, since the Geforce G105M sits dangerously close to the bottom of Nvidia's mobile graphics line up. Despite its best efforts, the G105M only managed to drive 3Dmark06 to 1692.
Gaming is just about possible, but it's not an entirely pleasant experience. We fired up Call of Duty 4 at the UX50V's native 1366 x 768 resolution and achieved an average of 10fps. Older games and those with the detail settings whacked right down will play better, but the relatively slow processor holds things back, so it's best not to trouble the UX50V with too many gaming sessions.
One advantage of Hybrid Graphics such as this is that, when not struggling to play games on the UX50V, you can switch to the integrated Intel chipset in an effort to save the battery. In our tests (PCmark05 on a continuous loop, brightness and max and Wi-Fi switched on), the four-cell 2800mAh battery managed 1hr 31mins on a single charge.

Certainly on the slim side
When we switched to integrated graphics (no reboot is required) and ran the same test, it powered on for a further 21 minutes – not a massive leap, but better than nothing. Activate the full power-saving mode, which caps CPU usage at 60 per cent, and another 20 minutes can be garnered, resulting in a total battery life of 2hrs 12mins. Considering it's powered by a single-core, ultra-low voltage CPU, we were hoping for longer.