This article is more than 1 year old
Asus UX50V
Easy on the eye, but not on the wallet
So how does the UX50V fare in the value for money stakes? Not so well, as it happens. Take the recently-reviewed Dell Studio 15, for example. It packs a much faster Core 2 Duo P8600 CPU, has better graphics in the form of an ATI Mobility Radeon HD 4570 and is roughly similar as far as portability goes. However, the real killer blow for Asus is that Dell is flogging the Studio 15 we reviewed for just £719 – almost £300 cheaper than the UX50V.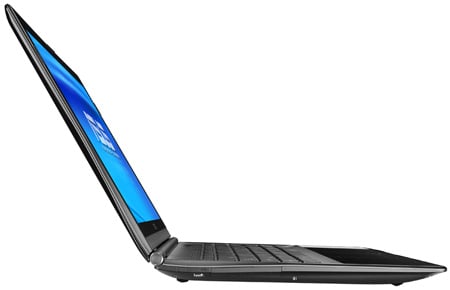 The price of fashion
Granted, the UX50V is around 10mm thinner than the Dell and far easier on the eye, but that's not enough to justify its rather hefty price tag. With its slimline design and shiny wrist rest gleaming back at you, the Asus UX50V makes a great first impression. Dig a little deeper, though, and it starts to lose its gloss.
Verdict
Although attractive, we weren't hugely impressed with the keyboard, while the design of the trackpad buttons is woeful. And despite its ability to switch to a discrete graphics chip, the Nvidia Geforce G105M isn't up to much in terms of gaming. If you're happy sacrificing power and a fair wedge of cash for style, the UX50V will probably appeal. But we think Asus has its work cut out in persuading customers to shell out £999 for its latest catwalk queen. ®
More Notebook Reviews...

Toshiba
Satellite A350-12J

Samsung R522

Dell Studio 15

Acer
Timeline 4810T

Asus UX50V
Glamorous 15in laptop, but not pretty enough to justify its mammoth price tag