US likely to downgrade Euro missile-interceptor plans
Rogue-state ICBMs 'haven't arrived on schedule'
---
The Pentagon has signalled that US plans for missile defences in eastern Europe are likely to be scaled back, according to reports. Smaller, cheaper interceptors - able to stop a possible shorter-range attack on Europe, but not a full-blown intercontinental strike against the USA - may now be proposed.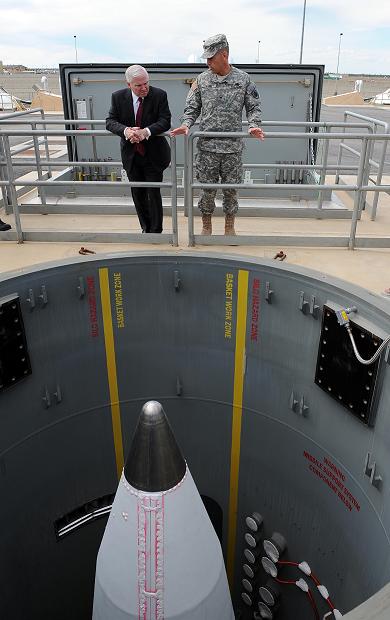 They don't like it up 'em, sir
US intelligence has long suggested that Iran and/or North Korea would by now have intercontinental ballistic missile (ICBM) capability, able to target the USA with nuclear or other "WMD" warheads. In response, the Bush administration sought to emplace powerful Ground Based Interceptor (GBI*) rockets in Poland and an X-band tracking radar in the Czech republic. GBIs are designed to intercept ICBM warheads during the middle part of their journey, at the highest point of their ballistic arc outside the atmosphere.
However it now seems to be the Pentagon's view that no credible rogue-state ICBM threat has in fact materialised, as yet.
"The reality is it did not come as fast as we thought it'd come," according to General James Cartwright, vice chairman of the US Joint Chiefs of Staff, speaking at a missile-defence conference in Alabama last week. The general's remarks were quoted in Aviation Week.
It would appear that the plan to emplace GBIs in eastern Europe is now in abeyance. Boeing, maker of the GBI, has touted the idea of putting the big rockets on mobile trailers; but it would seem that in fact the likeliest course for the Obama administration is to deploy a land-based version of the Standard SM-3 naval interceptor.
The SM-3, at present carried aboard US and allied Aegis air-defence warships, isn't powerful enough to reach the high middle section of an ICBM's arc. As such it couldn't defend the US against long-haul warheads passing above or near Europe. But it could offer a defence against shorter-ranged missiles targeted at US forces or allies in the region.
Not only would landbased SM-3 offer protection against the most likely threat, it would be of no use against Russian ICBMs targeted at the States. The Polish GBI plans have seen massive protests and sabre-rattling from Moscow, but SM-3s should be more acceptable to Russia. SM-3 would also be cheaper than GBI, which is important given the recession and the Obama administration's determination to shift military funding to tackle more plausible contingencies. The lighter interceptor could also be in the field and ready much more quickly than new GBIs, most probably operated by the US Army.
The SM-3 is also seen in Washington as a more reliable piece of kit than GBI, if less capable. In particular, the successful shootdown of a duff US spy sat by a US cruiser in the Pacific last year has added much to the naval interceptor's reputation.
Meanwhile the US already has GBIs covering its western and northern approaches in Alaska and at Vandenberg air force base in California, which Cartwright said could easily cope with a "rogue" launch - for instance a single warhead or handful of warheads lobbed by North Korean Taepodong-2 rockets, in the event that working nuclear-tipped Taepodong-2s are produced. (The Nork rocket potentially has ICBM-type capability, but tests thus far have been failures and North Korea isn't thought able to produce missile-sized nukes yet.)
The Av Week report from Alabama is here. ®
Bootnote
*AKA "Ground based Mid-course Defence" (GMD, GMDI etc).