US 'grooming robot' to reduce navy bottom-fouling
'Ensuring dominance and reducing dirty emissions'
---
In a bid to tackle the degrading effects of widespread "bottom fouling" in the US fleet, the US Navy has announced that it is engaged in efforts to develop an "autonomous grooming robot".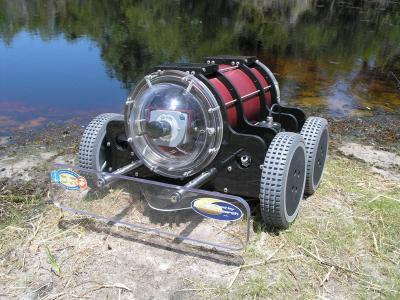 'Scrub your bottom, sir?'
The robot is known as the Bio-inspired Underwater Grooming (BUG) Tool. According to the Office of Naval Research, it's all about "ensuring warfighting dominance for today's Sailors and Marines [and reducing] emission of greenhouse gas in the form of carbon dioxide".
"It will be not one approach or one solution that solves the marine biofouling issue," says Steve McElvany of the ONR. "It is going to be a combination of things."
Recent trials of the device involving actual US navy sailors yielded "very exciting results", according to Florida Institute of Technology prof Geoff Swain, one of its developers.
Rather than a bathtime utensil for dealing with possible maritime combat trouser mishaps, the BUG is in fact a small crawler-bot that creeps about on the submerged portions of a ship's hull, scrubbing off "hard foulers" such as "barnacles, oysters, algae and other marine life".
A foul bottom can reduce a warship's speed by up to ten per cent, according to the Naval Surface Warfare Center Carderock Division (NSWCCD). Fuel consumption over a given journey can be increased by as much as 40 per cent.
Warships are particularly badly affected by biofouling as they spend large amounts of time tied up in harbour, letting the various forms of bottom-grasping marine life get firmly established. But even merchant ships, which spend more time underway, could benefit from a cleansing bottom-crawl now and then.
"Basically any boat over 45 feet, which is in the water all the time, can benefit from this kind of technology," says Don Darling, President of SeaRobotics and another of the BUG dev team.
There's more on the BUG from the ONR here (pdf). ®
Similar topics
Narrower topics