The verdict is in: Windows 7 is a job well done. Yes, there will be a few Windows XP diehards and those who've fled to OS X and have no intention of returning, but overall Windows 7 is more responsive, prettier, and more usable than Windows Vista.
That said, it is not perfect, and Windows 7 comes with its own set of annoyances and missed opportunities. Here are three of the biggest.
First is multi-touch. It is a big deal, since in the post-iPhone world the advantages of controlling a touchable device without the clutter of a stylus have sunk home. Microsoft claims it has made "touch a first-class way to interact with your PC alongside the mouse and keyboard", according to the official Engineering Windows blog.
It is true that the foundations are laid, with a touch gesture API that means there is no barrier to developers writing excellent touch-control applications, and this will further improve in the forthcoming .NET 4.0.
But has Microsoft made Windows itself touch-friendly? I tried Dell's Latitude XT2, one of the few currently available Tablet PCs with a multi-touch display, and installed Windows 7. I had no quibble with the hardware, once the latest driver from N-Trig was installed, and scrolling up and down in Internet Explorer with a sweep of the finger is a good party trick, complete with inertia effects.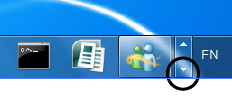 Can you stab it: a crowded Windows 7 task bar
Unfortunately, the fun soon wears off if you try to use Windows without keyboard, mouse or stylus. Microsoft has only gone half-way. The taskbar is a delight for touch users, until it fills up and you try to stab a tiny scroll arrow with your finger. The on-screen keyboard is not bad, except that it does not always pop-up when you need it - the Sticky Notes application is an example - and dragging it into view is a hassle. With practice you can get around, but it is not the delight that it should be.
The problem is that Windows needs more applications and utilities designed specifically for touch. These will come, eventually, if multi-touch Windows gains sufficient momentum. However, it risks ending up in the same expensive niche that has afflicted the Tablet PC, or being sidelined by something like the rumored Apple Tablet, if that turns out to do a better job for usability.
Notifications alert
The second big issue is Microsoft's revised notification area. I've been working with the final build for a few weeks and watching other users, and - frankly - I have strong doubts about what Microsoft has done.
Similar topics