Leccy Tech The last season of Top Gear ended with Jeremy Clarkson complaining that the Aston Martin V12 Vantage could be the last of its breed, thanks to environmental constraints, speed restrictions and global oil-related issues.

Volare is a hydrogen fuel cell-powered Aston concept
Now 23-year-old British automotive design graduate James Trim has sketched out plans for a hydrogen-powered Aston Martin dubbed the Volare.
Though his two-seater concept currently only exists as a scale model, the car is a compelling vision of what the eco-friendly Aston Martin of tomorrow might look like.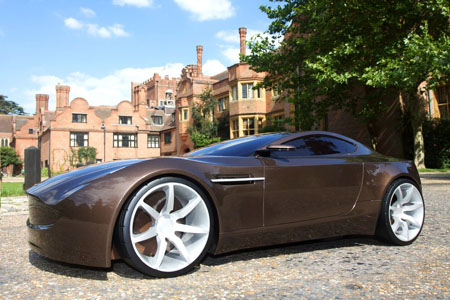 Two hydrogen tanks lurk over the rear axle...
The Volage's hydrogen fuel-cell would sit between its front seats and two hydrogen tanks would be mounted directly over the rear axle, Trim said.
To maintain a perfect weight distribution throughout, a battery pack would sit in the car's rear, and the electric motor under the bonnet.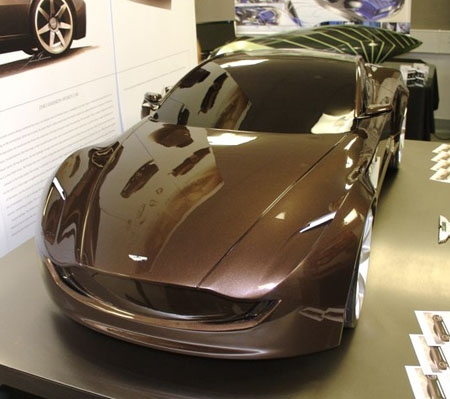 ...and a leccy motor rests under the bonnet
The rather too ultra-low profile tyres notwithstanding, we think Trim has hit the nail on the head with the Volare. His design is instantly recognizable as an Aston Martin, with the e-car's solid grille echoing the old V8 Vantage.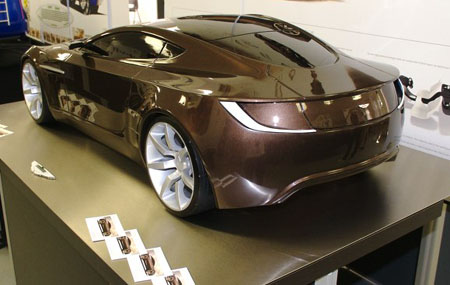 Not official, alas
Sadly, Trim's concept has no official Aston Martin connection. But should the exclusive car firm ever manufacture the Volare, it could be enough to seriously shake Clarkson's petrol foundations. ®