Once the operating system is installed on the hard drive, reboot into the Bios and turn AHCI on. Among other effects, this allows the boot mechanism to find Sata drives beyond the IDE range of 0-3. EFiX can now act as a boot selector, allowing you to boot between, say, Windows, Linux and Mac OS X, provided each is installed on a separate physical drive.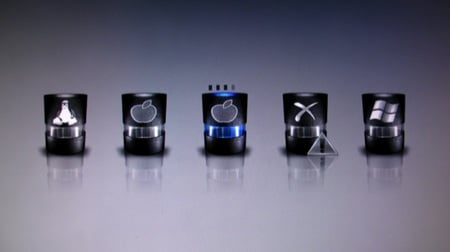 The EFiX boot screen. It's found five drives: the left-most is Linux-bootable, then two Apple-bootable. The next is unbootable and the fifth is a Windows-bootable drive. The current boot (selected with the cursor keys) is the central highlighted icon, and the small rectangles above it represent the countdown.
I probably need to correct any impression that EFI is open-ended and wholly wonderful. An alternative view is set out here, where it's argued that EFI is effectively a DRM'd Bios.
ASEM itself takes advantage of the fact that "a core value of EFI is the preservation of intellectual property", and appears to be near-paranoid that its development effort will be stolen by others, making full use of EFI's support for cryptography to obscure its code and prevent interception of its updates.
Would-be hackers are not the only losers here. Ordinary EFiX users have complained that the one-way, over-the-net update process offers no option to step back to a previous update if, as actually happened earlier this year, an EFiX firmware update negatively impacts (in this case, network) performance.
But is it Legal?
There's plenty of room for discussion here. ASEM maintains that it's using an open standard, has developed its proprietary extension software in-house and is in breach of no copyright or patents. It sees the EFiX as broadening Apple's market, helping sales of Leopard into the built-it-yourself gaming sector, hitherto almost exclusively the domain of Windows.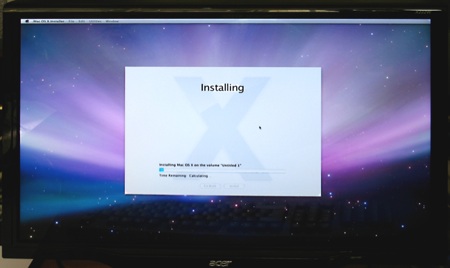 Success: Retail Leopard installing
However, a clause in Leopard's End User Licence Agreement (EULA), which everyone installing Leopard is supposed to read and accept, says: "This Licence allows you to install, use and run one (1) copy of the Apple Software on a single Apple-labeled computer at a time. You agree not to install, use or run the Apple Software on any non-Apple-labeled computer, or to enable others to do so."
Similar topics