I'm not a lawyer, and I don't know what exactly an "Apple-labelled" computer is. The retail Leopard DVD case actually includes a couple of sticky Apple labels - perhaps the intention is that you affix one of these to your EFiX-enhanced generic Intel hardware before installation...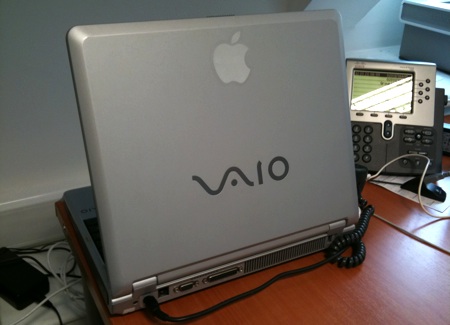 An Apple-labelled computer?
Seriously, it's doubtful if Apple would want to bring the full weight of its legal department down on individuals using Mac OS X on EFiX solely for their personal use. If Apple insists, I'll desist and revert to Windows 7. But expensive lawyers warn me that the use of Leopard on non-Apple hardware for business purposes might be deemed by a UK court to be a criminal breach of copyright. You have been warned.
Back to the test machine. Unlike Windows, which comes in separate 32-bit and 64-bit versions, Leopard is a 64-bit and 32-bit operating system combined. On my Q9450 processor, OS X runs in 64-bit mode, taking full advantage of the 8GB of memory. You wouldn't expect a boot device to have any impact on general performance, and the EFiX-assisted test hardware certainly seems to be running in accordance with the manufacturers' specs.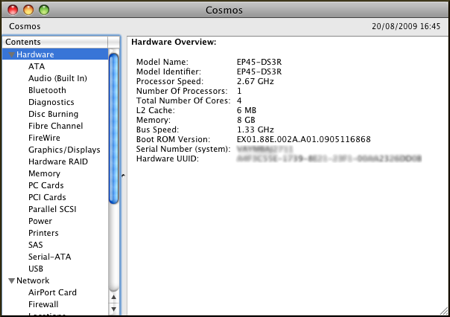 What System Profiler says
There is one exception, though. ASEM has encountered problems getting the Gigabyte onboard Ethernet ports to behave. Initially, they ran at full speed, but couldn't cope with Apple's Bonjour service discovery protocol - so sharing iTunes libraries, for example, didn't work. This was fixed with version 3.6.11 of the EFiX firmware, but the Gigabyte Ethernet ports became unmanageably slow. The workaround, until ASEM comes up with a proper fix, is to install an Apple-compatible network card like the Netgear GA311.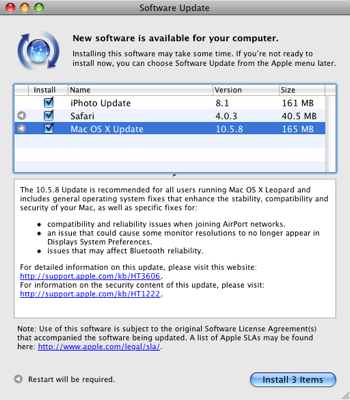 Updates? No problem
EFiX-assisted Mac has updated happily all the way from Mac OS X 10.5.0 to the current 10.5.8 version. There's no reason to think that the upcoming Snow Leopard should offer any special problems for EFiX users, but it would probably be smart to hold off the upgrade until ASEM gives official clearance.
The EFiX device is available in the UK from Orange Systems for around £170. Mac OS X is available from Apple for £83. ®
Similar topics