MS phishing filter blacklists everything
You all look bloody shifty to me
---
A wide range of uk.com websites were misclassified as malign by anti-phishing technology built into the latest versions of Microsoft's browser software on Wednesday.
Microsoft's SmartScreen Filter, which is built into IE7 and IE8, labelled every uk.com top level domain site as a phishing site following what appears to be a dodgy rule change applied overnight. Many of the sites have been unblocked, but many others remain labelled as potentially dangerous to surfers visiting the site running Microsoft's consumer protection technology.
The issue created a headache for UK ISPs, with hosting customers calling up wondering what the heck was going on. An ISP source who was the first to tell us about the problem said that its phones are "red hot" from calls about the issue.
Some discussion of the problem can be found on Google groups here.
Several Register readers informed us about the issue, which we were able to confirm after visiting a selection of uk.com websites using IE, with SmartScreen Filter activated.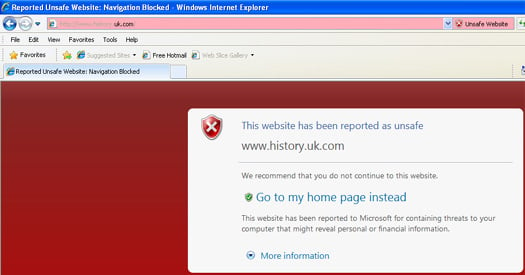 SmartScreen Filter takes a dislike to uk.com domains
Microsoft responded to our queries promptly by saying it was investigating the issue.
CentralNic, registrar for uk.com domains, published a statement saying Microsoft has promised to resolve the problem within two hours, by 1330 BST.
"We have been made aware that the Microsoft SmartScreen filter included with Internet Explorer 8 is erroneously marking some domain names as being unsafe," it said.
"The most likely explanation is that a genuinely unsafe website under one of our suffixes was reported to Microsoft, but they incorrectly added all the domains under that suffix to their list of unsafe websites.
"If you are a domain registrant whose website is affected, you can click on the 'More information' link, then the 'Report that this site does not contain threats' link, and report that your website is safe to Microsoft." ®
Similar topics
Broader topics