This article is more than 1 year old
Intel 'Lynnfield'
Next-gen Core i7 - and Core i5
Preview When Intel launched the 'Nehalem' architecture-based Core i7 - codenamed 'Bloomfield' - and the X58 chipset in November 2008, we assumed that the anticipated mid-range follow up would be called Core i5.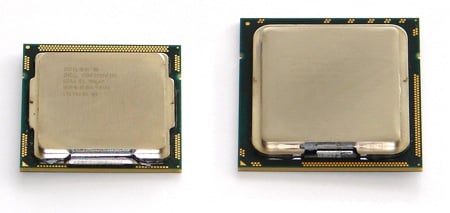 LGA1156 vs LGA1366: on top...
This mid-range processor - codenamed 'Lynnfield' - was flagged as a replacement for Core 2. It will use a new, LGA1156 processor socket and feature an integrated PCI Express graphics controller (1 x 16 or 2 x 8). Like Bloomfield, it will have an integrated DDR 3 memory controller, but it will be a dual-channel job rather than the triple-channel unit found in Bloomfield.
But it hasn't quite worked out that way.
Lynnfield is Core i7 and Core i5. Specifically, it appears as the Core i7 800 series and Core i5 700 range. Officially, Bloomfield is the Core i7 900 line.
The differences between the two new families of processor are quite slight despite the apparent gulf between the Core i7 and i5 names. The memory controller on the i7 800 has been cut down from the i7 900 and the QPI link has been replaced with DMI (Direct Media Interface). If you read our feature on DDR 3 performance on Core i7, the prospect of losing the triple-channel controller is unlikely to cause you any concern.
Similarly, the shift from QPI to DMI shouldn't cause you to lose sleep if you have a single-processor PC and aren't thinking about upgrading to a dual-CPU workstation or a multi-CPU server.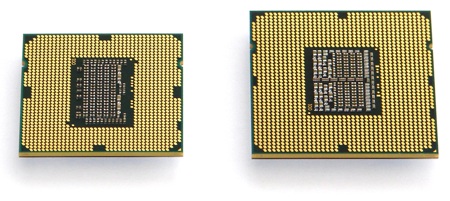 ...and underneath
The i5 is quite similar to the i7 800 except that it loses HyperThreading so only has four physical cores instead of eight virtual cores. It also supports virtualisation, but not as fully as the i7, which also includes VT-d, a technology that extends virtualisation to direct I/O access.