This article is more than 1 year old
How to turn a world leader into a fourth-rate broadband economy
Filling in the wide open white spaces
There is an interesting report out this week from an organization in the US calling itself Speed Matters. It is backed by the Communications Workers of America, and it makes a seriously cogent point about US broadband capability.
It is in its third year and it points out that US broadband connection speeds have not improved significantly during the past few years. It is based on sampling the last-mile connections of 413,000 Internet users who took an online test, between May 2008 and May 2009.
We should first go through the recommendations of the report, but readers of Faultline, especially US readers, will be wondering just what it will take to improve this and turn broadband into a commercial tool for US prosperity? Now that's going to be tough, so perhaps we should leave that until the end.
The report found that between 2007 and 2009, the average download speed in the United States has increased by only 1.6 Mbps, from 3.5 Mbps in 2007 to 5.1 Mbps in 2009. At this rate, it will take the United States 15 years to catch up with current Internet speeds in South Korea, the country with the fastest average Internet connections.
Speed Matters also released a full list of 2009 state rankings and a comparison to the average download and upload speed in 2008. It probably only matters to people living in the US so they can compare their local speeds to other parts of the US, so we won't republish that here.
However, one of the most compelling pictures is the map it has of the US, and we can immediately see why the US Obama administration has had to reach into the public purse for its Broadband Stimulus package, not only to create jobs to stimulate the economy, but to fill some of the horribly large white spaces on the map.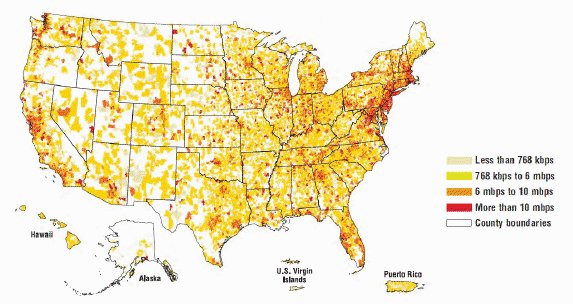 Speed Matters map of available US broadband speeds
The report concluded that "Only 20% of those who took the test have Internet speeds in the range of the top-ranked countries - South Korea, Japan and Sweden. 18% do not even meet the FCC definition for current-generation broadband, an always-on Internet connection of at least 768 Kbps downstream.