NASA suffers rocket fail 20 seconds from firing
Discovery delayed too and the moon probe navigation fails...
---
Troubled US space agency NASA yesterday scrubbed a test-firing of the Ares I rocket - which will carry American astronauts into space after the space shuttle fleet retires - with just 20 seconds left on the countdown. Meanwhile other problems have seen this week's launch of the shuttle Discovery delayed, and a moon-impact probe running seriously short of fuel.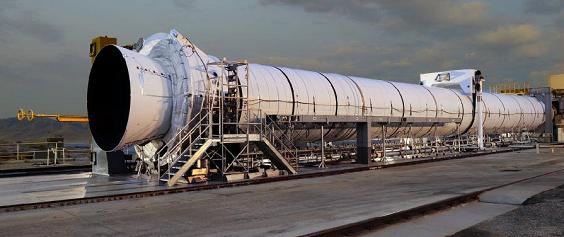 The rest of the space shuttle? Not actually required, it turns out.
NASA was expected to carry out a ground test firing of the Ares I rocket yesterday. The Ares I, developed from the solid-fuelled strap-on boosters used to help space shuttles launch, is the astronaut-launcher rocket for NASA's planned "Constellation" future generation of manned space missions. It's intended to rendezvous in orbit with the International Space Station (ISS), or with lunar/interplanetary craft lifted into space aboard the bigger (but not man-rated) Ares V.
According to a NASA statement released overnight:
The stationary firing of the Ares five-segment solid motor - known as Development Motor 1, or DM-1 - was scrubbed on Thursday, August 27 with twenty seconds left in the countdown. The investigation is still ongoing and ATK is targeting no earlier than Tuesday, September 1 for the motor test. By choosing to scrub today we have not compromised any of the motor components and preserved the ability to execute a successful test and capture the data we need. Tuesday gives the test team enough time to determine the root cause and prepare the motor for testing.
Even once the Ares test programme is moving forward again, it may be headed nowhere. The budget assigned to NASA over the next ten years isn't big enough for current plans to proceed, and the Augustine panel is due to report to President Obama with a recommended way forward soon. Panel members have already stated that the present budget isn't enough for any serious programme of manned space exploration - but increases are seen as unlikely.