This article is more than 1 year old
Reg bean counter in charity cycling towerathon
From Paris to Blackpool, the hard way
It's come to our attention that El Reg's chief bean counter Charlie Caton is about to arrive in Blackpool having decided to tackle his mid-life crisis head-on by cycling there from Paris.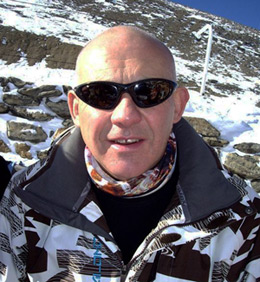 The gruelling trek from La Ville-Lumière's famous Eiffel erection to Blackpool's rather more modest tower will benefit Rock FM's Cash for Kids charity and The Children's Society in Lancashire.
Naturally, Charlie (pictured in full alpine mode) has got an entertaining Twitter account of his epic journey, featuring much complaining about the state of his arse.
Good stuff. Charlie's hoping to raise £1,500 for his chosen charities, and has already reached £1,470 at time of writing. We're sure Reg readers will lend their support and help him on his way, which you can do right here.
Oh yes, in case you're wondering why we didn't trumpet this audacious bit of pedal-pushing before, we gather Charlie decided to keep the whole thing quiet in the hope of avoiding being held up to public ridicule admiration in the Bootnotes section. No chance, mate, but have a pint on us. ®