This article is more than 1 year old
EMC co-founder kills himself
Street kid, entrepreneur and ambassador
Obituary Richard Egan, the colourful and vigorous co-founder of EMC, went into a linen cupboard of his home at the Four Seasons condominiums on Boylston Street, Boston, and shot himself in the head with a shotgun on Friday, ending his fight against terminal lung cancer.
Egan had an amazing life, encompassing involvement in the Apollo space programme, the US Marines, starting and building the most successful storage company on the planet, and becoming the US ambassador to Ireland. Finally, aged 73 and facing a lingering death, he ended the battle decisively and on his terms. He was never a shrinking violet.
Richard (Dick) Egan was born in Milton, Massachusetts in 1936, grew up in Dorchester, He has been described as a hardscrabble street kid.
US Marines
On graduating Boston Technical High School in 1953, he joined the US Marine Corps reserves aged 17, just before the end of the Korean War. He became a helicopter pilot.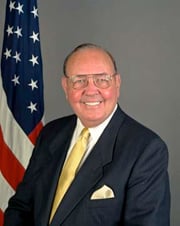 Dick Egan, 1936-2009
Three months after being assigned to active duty he was court-martialled for being absent without leave, and sentenced to forfeit pay and confinement for six months. Five months of the confinement were suspended. Egan was demoted to private. Eventually he received an honourable discharge and was eligible for re-enlistment.
He chose instead to go to college.
Electrical Engineer
In 1962, aged 26, he graduated from Northeastern University with an Electrical Engineering degree. Graduate work at MIT followed and Egan gained a master of science degree. In 1963 he was a member of a team developing memory systems for NASA's Project Apollo at the Draper Laboratory. His work helped in the development of the Guidance Computer for real-time control of Apollo's operations. US astronauts travelled to the Moon in the Apollo space craft.
Egan subsequently worked for Lockheed Martin, Honeywell and Intel.
EMC
In 1979, Egan co-founded EMC with Roger Marino - the 'E' stands for Egan, 'M' for Marino, and the 'C' for corporation, maybe. They saw that minicomputers were a growing business and that there was an opening for supplying memory expansion cards to these minicomputers. The manufacturers sold them at high price, but Egan and Marino reckoned they could buy their own, sell them for half the minicomputer makers' prices and still make a profit.
He and Marino sold office furniture to raise the starting cash needed for EMC. The firm sold memory boards for Prime minicomputers, and added boards for IBM, Hewlett-Packard, Wang and Digital Equipment minis too.
The company then added the sale of hard disk drives. Then there came the epochal shift into selling storage arrays for IBM mainframes.
The idea was to sell externally-attached storage arrays, built from commodity hard disk drives, to mainframe and server computers. Until then the server manufacturers sold the storage needed, enjoying a captive market with customers locked into their products.
In the late eighties EMC ripped that cosy relationship apart. The company sold better arrays for less money than the server manufacturers' own products. EMC sold its arrays for attachment to customers running IBM mainframes, and HP, Compaq and Sun servers, running both Windows and Unix operating systems. The company grew rich as it won storage sales from these server companies.
EMC formed part of the Massachusetts high-tech business community, alongside mini-computer manufacturers Data General, Digital Equipment, Prime and Wang. Mini-computers and workstations from Sun and Apollo were establishing themselves as alternatives to mainframes and green screen terminals. The PC was about to be invented and the Internet did not exist except in nascent form. Email was in its infancy.
EMC went public in 1987 with its shares selling for $21.50. At IPO time EMC had revenues of $66m and profits of $18.6m. Four days after the IPO, on Black Monday, the price slumped to $16.00.
Egan was president and CEO until 1992, and became chairman of the board in 1998.
EMC's purchase of struggling mini-computer supplier Data General in 1999 gave it access to DG's Clariion array technology, which used commodity hard drives and RAID protection. This provided EMC with its highly-successful mid-range storage products.
Users accessed EMC arrays through block-level protocols. NetApp stepped into the network-attached storage (NAS) market with its appliances and built a NAS empire, EMC introduced its own Celerra NAS product line and eventually emerged as top dog in the NAS market.
In the tech boom EMC enjoyed explosive growth and the jobs it created helped Massachusetts emerge from the recession. There were stories of aggressive leadership, hard-driving sales management and a generally macho style of running things. The company was extraordinarily successful. It the great bull market of the 1990s its share price rose an astounding 84,000 per cent.
Egan's EMC involvement finished with his retirement in January 2001 as Chairman Emeritus. He had sold most of his shares during the technology boom and was a very rich man. Forbes magazine placed him at 285th in its list of rich Americans in 2005, with a $1.3Bn net worth.
When Egan retired, CEO Mike Ruettgers became the chairman and external hire Joe Tucci, who joined EMC in January 2000, took over as CEO. The Egan-Ruettgers-Tucci succession had apparently been planned for some time.