This article is more than 1 year old
Discovery pair prep for first spacewalk
Shuttle on its way with spectacular night launch
Flight engineer Nicole Stott and mission specialist Danny Olivas will later today step outside the International Space Station for the first spacewalk of space shuttle Discovery's mission STS-128.
The pair will later this evening "prepare for the replacement of an empty ammonia tank on the station's port truss, or backbone, by releasing its bolts". NASA adds: "They also will retrieve a materials processing experiment and a European science experiment mounted outside the Columbus laboratory and stow them in Discovery's cargo bay for their return to Earth."
Discovery launched at 03:59 GMT on Saturday from Kennedy Space Center (see pic), carrying the Leonardo Multi-Purpose Logistics Module.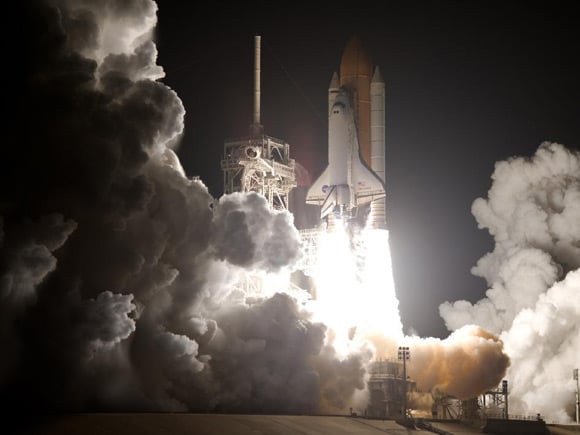 It will take several days to transfer the 7.5 tons of supplies from Leonardo, which include "two research racks (Fluid Integrated Rack and Materials Science Research Rack), a new station crew quarters, the Minus Eighty-Degree Laboratory Freezer for ISS (MELFI-2), the Air Revitalization System Rack and the COLBERT treadmill".
Discovery is slated to return to Earth on 10 September. Stott will remain on the ISS, relieving Tim Kopra, who arrived aboard Endeavour on mission STS-127 back in July.
NASA's mission STS-128 summary is here (pdf), and there's a press pack here (pdf) and the main mission page here. ®