Review Samsung is knocking out new netbooks like there is no tomorrow. Yet, with the N120 and N310, we have seen the company try to define new netbook genres where there really aren't any. The former is marketed as a multimedia optimised machine, while the latter targets anyone swayed by styling and fancies a laptop that resembles a bar of soap.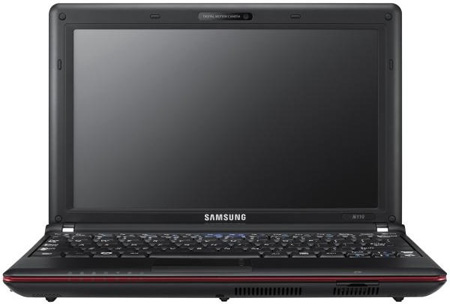 Samsung's N110: another netbook, another price point
Now the N110 has arrived, we suspect it is intended to be seen as an upgrade of the NC10, rather than a new niche filler. But does new equal better? And, more importantly, does it equate to being worth the extra cash Samsung will no doubt be asking for?
The most obvious differences between the N110 and NC10 are in appearance. Let's face it, with so many netbooks doing more or less the same thing for more or less the same price, looks are as good a reason as any or predicate your purchase on. In this respect, the N110 can be regarded as a worthwhile improvement.
To start with Samsung has ditched the silver highlight strip that circles the NC10 in favour of deep red narrow pinstripe, although the screen hinges are still chrome effect. Efforts have also been made to give the N110 a smoother and more rounded profile than the NC10 making it look rather more svelte and sculpted. It appears a more expensive machine too, which is just as well because as we will see below, it is a more expensive machine.
In terms of size there is nothing to choose between the old and the new. At 261 x 185 x 30.5mm the N110 is, to all intents, identical to the NC10. According to Samsung, the new machine is actually 70g lighter at 1.26kg.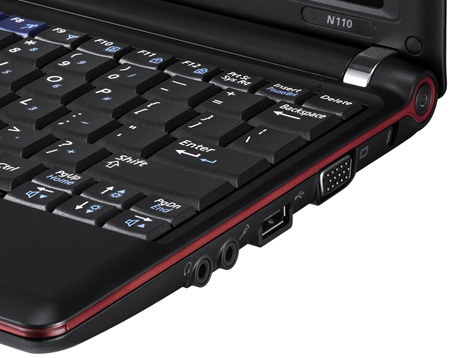 Powered by a 1.6GHz Intel Atom, aided by go-faster stripes
The layout of the external jacks and sockets has been carried over from the NC10 so you get two USB sockets, an 10/100Mb/s Ethernet port and power plug on the right along with a third USB socket, VGA port, Kensington lock and 3.5mm headphone and microphone jacks on the right. The on/off button sits in the right hand end of the screen hinge and as with Samsung's other netbooks, you also get a 1.3Mp web cam and built-in microphone.
Similar topics