Israelis offer unmanned robo smart-missile 8-pack
Tanks? Artillery? Airstrikes? So 20th century
---
Israel appears to have stolen a march on America in the matter of multipack unmanned cruise missile-in-a-box packages. An Israeli maker is exhibiting its "Jumper" robo missile pack as ready for sale, while the rival US "Netfires" system is still in development.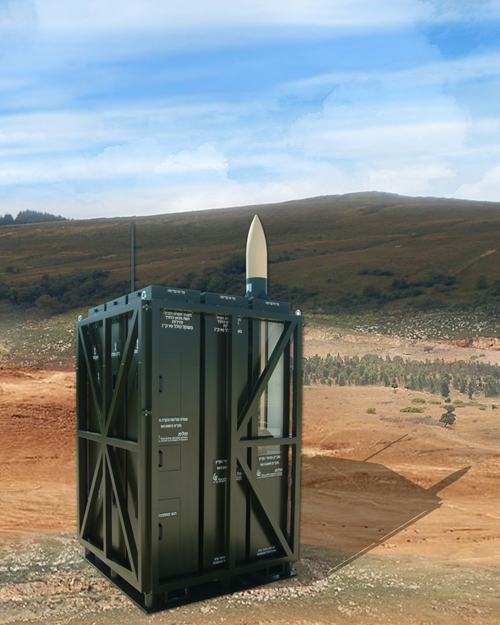 Gunners? Mortars? Close Air? How quaint
The idea of such weapons is simple. A large box (looks like a festival toilet to us) contains several vertically-launched missiles, along with its own communications and power. It's generally light enough to be driven about by a Humvee or similar, parachuted down from a transport plane, dropped off by helicopter, tied down on the deck of a ship or barge etc. It needs no crew in operation.
Once the box is in place, it awaits orders. A soldier far off, or an aircraft or UAV, can mark a target using map coordinates - and light it up with a laser pointer for extra precision if required. As soon as firing authority is given - perhaps by a remote command post, or by the commander on the ground - a missile leaps up out of the box and flies to the designated coordinates using GPS satnav and inertial navigation.
On arrival, it plunges out of the sky and strikes as precisely as a smart bomb - even hitting moving targets if laser pointing is available. Scratch one tank, pickup truck, building or whatever.
So far, so blah - anyone with air or modern artillery support can do this already.
But that's the point, in fact. Keeping aircraft overhead - even unmanned ones - costs a lot of money and ties up a lot of people. Having a battery of guns or normal bombardment rockets to hand is even worse: more people, on the ground this time, and all the ammo and fuel etc has to be shipped all the way into the field.
With things like Jumper or the American Netfires/Non Line Of Sight Launch System (NLOS-LS), you might not need mortar platoons, artillery regiments and strike air nearly so much. And with any soldier packing a targeting laser able to knock out tanks by the dozen, you might not bother with them so much either.
In short, if smart-missile multipack boxes catch on, there could be a serious change to the way armed forces are organised. They'd contain, potentially, a lot more combat troops, as the business of providing fire support would be automated and becomes merely an offshoot of logistics - moving boxes about.
Until now, the main visible contender in the field was the slowly-gestating NLOS-LS. But yesterday Israel Aerospace Industries announced that Jumper is ready to go. IAI say their box holds 8 missiles as opposed to the NLOS-LS' 15*. Jumper is said to offer range of 50km, "several possible warheads", "pinpoint accuracy and short time of flight ... regardless of weather and visibility".
It'll be interesting to see how all this pans out. ®
Bootnote
*It's no coincidence that both systems hold one less than a square number: the comms and power gear fits into the space occupied by a single missile cell.