This article is more than 1 year old
Shuttle offers Linux-loaded all-in-one Atom desktop
Dual-core touchscreen machine
IFA Shuttle has introduced a version of its X500 "ultra-thin" all-in-one desktop PC that now comes pre-loaded with Linux - openSUSE 11.1, to be precise.
The X500V is based on a dual-core Atom 330 processor running at 1.6GHz. The base spec includes 1GB of DDR 2 memory - a second Dimm slot lets you up that to 2GB - and a 160GB hard drive.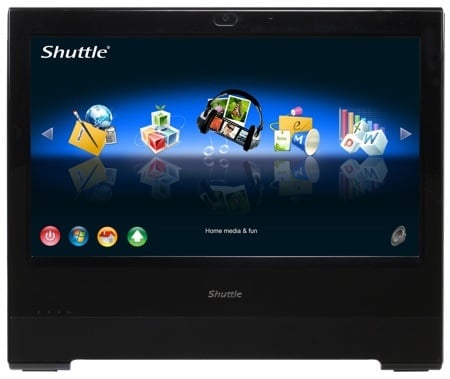 Shuttle's X500V: the screen is touch-sensitive, the OS is open
The 36mm-thick design is built around a 15.6in, 1366 x 768 touchscreen with a 1.3Mp webcam, microphone and stereo speakers in the bezel.
The entry-level unit just has Gigabit Ethernet and 802.11n Wi-Fi for connectivity. It has VGA output and five USB ports.

Thin
Available now in a choice of white or black, the X500V is priced from €511 (£366/$752). ®