This article is more than 1 year old
Googlephone set for second US carrier
Android trains for October Sprint
Sprint will be the second US mobile carrier to dream of electric sheep this October when it begins selling the HTC Hero running Google's Android operating system.
While most wireless carriers have pledged support for the Android camp, T-Mobile's G1 and myTouch 3G (also manufactured by HTC) are the only phones currently available Stateside powered by Google's open-source platform.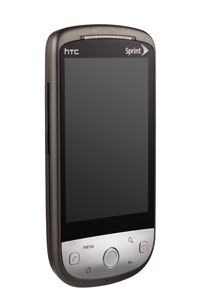 HTC Hero (after mentoplasty)
Sprint said the HTC Hero will begin selling October 11 for $330 (or $180 after a $50 "instant savings" and a $100 mail-in rebate with a two-year service agreement). Hero also requires an unlimited data plan, which starts at about $70 per month.
HTC unveiled Hero as its third Android phone back in June, with T-Mobile and Orange serving as its European carriers. For its American debut, the phone is receiving minor cosmetic surgery by losing its protruding "chin" in favor of a flat design.
The phone sports a 3.2in capacitive touchscreen with 320 x 480 resolution and "pinch-to-zoom" capability. Other goodies include a 5.0 MP camera, GPS, Wi-Fi, accelerometer, light sensor, and microSD slot supporting cards up to 32GB.
Hero also comes preloaded with Google services like Maps, Gmail, and YouTube. Check out our previous review of the HTC Hero here.
Motorola has pledged to have two of its own Android-based phones in the country before the holiday season.
T-Mobile intros pay-as-you-go Androids in UK
Meanwhile, T-Mobile UK this morning unveiled its third Android smartphone, and the cheapest one yet.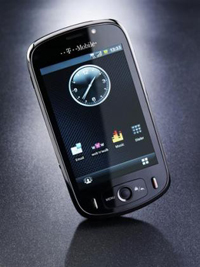 T-Mobile Pulse
Available in October, the T-Mobile Pulse will be the first Android handset available on a pay-as-you-go plan for £180 up front, plus £5 per month or £1 per day for Internet access.
The Huawei-manufactured handset is aiming to be a more affordable mass-market Android device than the earlier and spendier G1 and G2 Touch models.
Pulse packs a 3.5in touchscreen with 320x480 resolution, 3.2MP camera with autofocus, GPS, Wi-Fi, 2GB internal memory, a microSD slot, trackball for navigation, and access to the Android Market for apps. It runs on Qualcomm's MSM7200A chipset and weighs 130g.
T-Mobile quoted battery life of 210 minutes of talk time and 300 hours of standby.
The handset will also be available on a monthly contract, but the details have yet to be announced. ®