This article is more than 1 year old
Sun squirrels away flash drive array
Not opening the overcoat just yet
A service manual (pdf) for a F5100 Flash Array can be found through Sun's website - it's a product which doesn't appear on the site's product pages and hasn't been announced yet.
The squirrelling-away is probably due to pre-Oracle purchase disruption. According to the manual the array, pictured below, is a rack shelf unit which can house 80 flash modules (FMods). The FMods are divided into four independent domains, or expanders, that share an enclosure.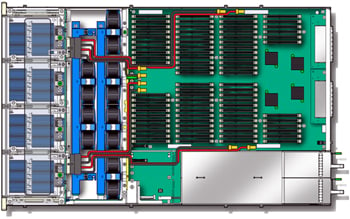 The F5100 is quite heavy, weighing 48.5lbs (22 kilograms). It has four super-capacitor-based Energy Storage Modules (ESMs) and an ESM backplane to provide power to the controller DRAM if there is an electricity outage. Caching write data in DRAM speeds up writes to the array.
There are six fan modules and two redundant 720 watt power supplies. Common Array Manager (CAM) software is needed to operate the array.
MUlti-pathing is not supported on the F5100 array. The array has a SAS interface and uses Sun StorageTek PCIe SAS host bus adapters that provide 2x4 lanes of 3Gbit/s SAS performance and support up to 20 FMods. The F5100 Getting Started Guide (pdf) states: "The F5100 has four independent SAS domains (expanders) each with four ports. Connect from one to four HBAs per expander. Connecting more than one HBA per expander requires zoning."
Cascading it to other F5100 arrays or other Sun SAS arrays is not supported. The array will work with various Sun x64 servers and SPARC servers running Solaris, Windows, RedHat and SuSE Linux. If you replace an FMod the access path changes.
Storage expert Robin Harris blogs that it is a 1U, 4TB array offering 1 million IOPS, 10GB/sec throughput and 64 SAS channels. The FMods are notebook SO_DIMM form factor modules, use single-level cell flash, and they would need to have 50GB capacity apiece to produce a 4TB array capacity.
Harris says Andy Bechtolsheim has talked about this at a MYSQL conference. His presentation can be seen on a YouTube video. One of his slides shows a 48GB SO-DIMM flash module. He says Solaris treats the flash as a transparent extension to the server's memory.
We don't know anything at present about the flash array controller, whether it is a Sun-developed one or a bought-in one (we're guessing it's the former). The flash chips could come from Samsung.
The F5100 looks like Sun's answer to Texas Memory Systems' RamSan. It's an externally-attached database storage array. What will Oracle do with this? It is promising to reveal a TPC-C benchmark for Oracle on Sun hardware that will blow an IBM record of 6 million TPC-C transactions out of the water on October 14. Intriguing, no? ®