This article is more than 1 year old
Toshiba multimedia touchscreen tablet out by Christmas
Only if you can swallow Windows CE
IFA While world + dog holds its breath for Apple to pop out the tablets, Toshiba has let out a gasp with its announcement of the JournE touch. This 7in, 16:9 aspect, LED touchscreen, wireless multimedia tablet features an ARM-based processor and runs Windows CE 6.0 Pro.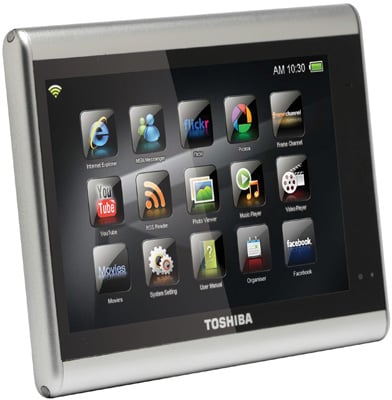 Toshiba's JournE touchscreen tablet is based on an ARM processor
Designed as a communications hub for home use, the JournE forms part of Toshiba's three screens strategy, which is aimed at integrating content sharing between TV, laptop and mobile devices. Weighing in at 450g and measuring up at 189 x 133.6 x 14mm the JournE's battery life is quoted as 14 hours. The device's integrated 802.11b/g Wi-Fi also supports mobile broadband and offers a range of on-line service presets, among them Youtube, Acetrax video on demand, Picasa, Flickr, MSN Messenger and RSS.
Internet Explorer takes care of the web browsing duties with Windows Media Player 9 handling music and video, with file support for JPEG images, MP3 and WMA audio with MPEG 4, H.264, Divx and WMV video. The JournE comes with 1GB internal memory expandable to 32GB with an SD card. While data sharing can be achieved wirelessly, an optional cradle offers an HDMI connection for TV use and USB for hooking up to a laptop.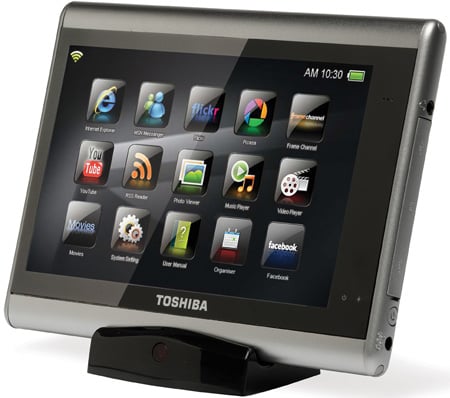 Ready to make it into Christmas stockings this year, or so we're told
On the floor, tablet in hand, Toshiba Europe's Marco Perino, General Manager PC Options, Peripherals and Service Division, stated that the choice of OS was to provide people the widest range of applications on the market. Perino implied that Windows CE was also chosen because it made it possible for the company to realise its goal and be first to market a multimedia tablet device, with this model due at the end of the year priced at €249. ®