UK-based security appliance firm Syphan aims to shake up telecoms security from an unlikely base in Skipton, North Yorkshire.
Syphan is developing a range of 10G (Gigabit) deep packet inspection security appliances, capable of allowing telecoms firms and managed security providers to offer functions such as intrusion prevention and firewall functions to their clients as a service. The technology, currently being trialled, provides a platform for cloud security, allowing providers to provide tailoured security policies for different customers. Syphan describes this approach as "multi-tenant security".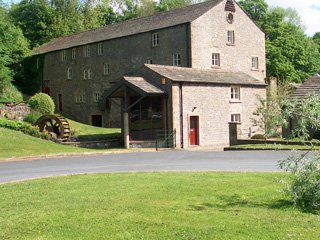 Syphan's base in Silicon Dale
The firm was started in 2006 by Pravin Mirchandani, a 20-year networking industry veteran who previously worked with Bay and Nortel in management and technical positions. Mirchandani, who was based in France at the time of starting Syphan, started the business with a grant from Yorkshire Forward, matched with his own personal investment in the start-up.
"I tried other parts of the UK," Mirchandani told El Reg. "The first two engineers were based in Yorkshire but we could potentially have located anywhere. Wales was a strong possibility for a time."
In April 2009, Syphan secured additional investment of £250K each from Partnership Investment Finance and the Yorkshire and Humber Equity Fund, its two original investors. The two regional development funds have invested a combined toal of £1m in Syphan. The firm has yet to secure any funding from commercial venture capitalists, a factor that has impeded its growth.
"Commercial VCs are not interested in anything that smells of technological risk," Mirchandani explained. "They are comfortable with providing finances to grow a business or providing management support. However they are very uncomfortable in getting involved in the early stage of a technology business, especially if it's hardware focused. Until a [hardware] firm has product they [British venture capitalists] won't invest, and even after you have product it's difficult."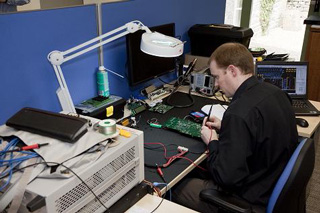 Soldering on: Inside Syphan's labs
Despite the funding difficulties Syphan has grown to employ 12 people. Recruitment remains a challenge, especially finding the right engineers who need a combination of skills in security and telecoms equipment development. "It's tough getting that combination, but Yorkshire is no better or worse than elsewhere in the UK," Mirchandani said.
Syphan has supplied the University of Bradford with a test-bed 10G nework. In return the firm gains valuable intelligence from the attempts of research students to "take down" its technology.
Cultural divide
Mirchandani describes US business practices as "more market focused" and "pragmatic" than those in the UK where there's a greater focus on preserving a firm's original vision and the workplace is "more political".
The firm's founder and chief exec reckons Syphan would be a least a year further on in its development if it were located in the US. As things stand the firm's technology is on trial with potential customers, the majority of whom (60 per cent) are located in North America.
Mirchandani describes the firm as being in an advanced pre-revenue stage. Syphan hopes to raise around £2.5m in a B-round of fund-raising from local funds between Q4 this year and Q1 2010.
"European VCs are scared of early stage telecoms equipment firms," Mirchandani explained. "They are more geared to mobile software guys not hardware and much more interested in bio-tech firms. By contrast, US venture capitalists understand and commit to risk. They appreciate that hardware developers have up-front costs."
Nokia in Finland, Alcatel-Lucent in France and Siemens in Germany have all established telecoms equipment businesses and were less affected by the dot-com crash than GEC-Marconi in the UK. Rebuilding the UK's telecoms equipment business ought to involve focusing on research and designer rather than manufacturing, Mirchandani argues.
"Manufacturing is moving east to Asia across the whole information technology industry. But there's still value in design and architecture. There are fewer jobs in this initially but they are sustainable. Europe is not doing as well at this as either the US or Israel."
A mini-cluster of hi-tech businesses in Yorkshire have already created a proto-Silicon Dale, a smaller-scale version of Scotland's more celebrated Silicon Glen. Alongside Syphan there's Pace Technologies, a maker of set-top boxes; Europlus Direct, an advanced hi-speed optical components firm; and Filtronics, which makes military components.
Syphan is targeting the 10G high-end of the market with high-performance kit based around FPGA technology rather than the more mainstream 1G market which is "very crowded".
In the IPS market, Syphan competes with established players including TippingPoint and Sourcefire. Mirchandani describes the DDoS mitigation market as more fragmented and potentially easier to crack.
"We want to create a UK success story in the telecomms sector, based on hardware," Mirchandani explained. "We're developing technology that service providers can make a buck from, which integrates well with their environment." ®