The VoIP outfit founded by Welsh tech entrepreneur Terry Matthews has gone into voluntary liquidation.
Newport Networks Ltd went titsup on 17 August when Begbies Traynor was appointed, according to Companies House documents.
The company moved into voluntary liquidation following a meeting with its creditors and directors earlier that month.
A spokesman for Begbies Traynor said the process meant that "all creditors have or will be paid in full". He was not aware of any creditors still owed money.
Here's the company's sombre declaration of solvency: "The majority of the directors of Newport Networks Ltd do solemnly and sincerely declare that we have made a full inquiry into the affairs of the company, and that, having done so, we have formed the opinion that the company will be able to pay its debts in full together with interest at the official rate within a period of 12 months, from the commencement of the winding up."
The firm, which made session controllers used by telcos and carriers to bill VoIP calls and was founded in 2000, reported a pre-tax loss of £8m last September. Not long after that many of its staff were laid-off.
Newport Networks' directors asked for the company's shares to be delisted in March this year.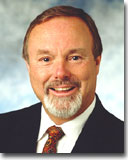 It was a different story for the firm half a decade ago when Matthews declared a flotation of Newport Networks on AIM, London's junior stock exchange, after he had invested £12.7m in the VoIP venture.
Prior to that, Welsh-born Matthews had been the main man behind Mitel - a contraction of 'Mike and Terry's Lawnmowers', which made the first chip-controlled switchboard. BT bought the firm for £350m in 1985.
The Ottawa-based telecoms tycoon also successfully ran switch and router biz Newbridge Networks before selling it to Alcatel for £4.4bn in 2000.
Matthews, who received a knighthood from the Queen in 2001, has a £120m home in Newport, Wales. The Celtic Manor Resort will host golf's prestigious Ryder Cup next year.
Channel trade mag Microscope was first to report this story. ®