Nokia is expanding Comes With Music, and seemed to welcome the comparison with the tenner-a-month Spotify option this week.
CWM is a fascinating experiment that bundles a year's unlimited downloads in the price of the handset. Get another Nokia handset, and you can keep using the service. For a number of obvious reasons - it's hard to understand, and it's only available on a ridiculously small number of handsets - CWM hasn't captured the public's imagination.
With much more attractive phones announced, and more flexibility for potential punters, that might change. There's also an unexpected boost courtesy of Spotify. Now Spotify has gone mobile, it's in direct competition with CWM - but the comparison leaves CWM looking the better deal in several respects.
There's price: Spotify's sideloading option (onto an iPhone) requires a £10 a month sub, or £120 a year, while Nokia's sideloading costs nothing. When you cancel a Spotify sub, you can't take your music with you, and must also fall back to the free streaming service. But Nokia lets you keep everything you download. (Both competitors use DRM - in each case, you'll need to use circumvention tools to release the song as an MP3.)
But price must be the big draw: Orange will sell you a CWM deal for under £20 a month, and that includes the phone and 200 minutes (plus texts).
"It's a very different business to be in to offer a free web service, then to begin migrate consumers to a £10 a month paid environment," Elizabeth Schimel, Nokia's global head of music told us in an interview this week. "The lower the bar can be set for monetisation the better, but it's a big challenge, it's a big hill to climb. The more people are building that sense of value in music the better."
"People want freedom and flexibility with no gotchas, gotchas such as no Wi-Fi access," she added.
Nokia will add new features to the service such as playlist sharing, and give punters more flexibility. CWM users will be able to extend their subs by a month or three months.
The availability of more attractive phones should help too. Ideally CWM should be an option on just about every Nokia phone, available as a "not sold separately" SKU. It makes no sense to choose the top Nokia phone (say, the N86) but not be able to use the service. It's an artificially constrained service. Well, at least the X6 helps: the prototype I played with this week in Stuttgart is the best Nokia music phone so far, fast and slick.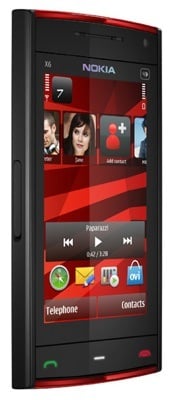 Nokia's X6
High street store staff are pretty baffled by it, but that's harder to fix. The DRM means it's tied to a PC - so it can't be activated on the high street store's PC.
Once people are using Comes With Music, the DRM doesn't really matter, Nokia says - because people regard it as a subscription access-to-a-library service. People expect to return books to a library. So it vexes bloggers who blog about tech more than punters.
"Where people can access thousands or millions of songs with one purchase it's fundamentally different; consumers don't have an issue. If there's an issue, they can't believe how good it is." And it looks as if the DRM will stay on CWM. Why?
Because, says Nokia, your expectations are higher when you pay for a la carte songs - you should be able to expect to move them around anywhere. So in the case of the Nokia Music Store, DRM will be gradually coming off.
That said, the service model is a winner, thinks Schimel.
"The future isn't buying music track by track, it's going to be a service," she told us. "Consumers vote with their feet - give them a fantastic catalogue, ease of use and great devices - but it doesn't happen over night."
The upside for Nokia, its primary goal, is "retention rates". Ferocious market competition and the recession means Comes With Music looks like it could be more useful than ever - but it's a potential that has barely been tapped.
No other consumer electronics manufacturer is trying anything remotely like it. It's the most potentially attractive service Nokia has in its otherwise mostly lacklustre Ovi offering - everything other than Maps is really rubbish - and Nokia can learn a lot from it. ®