This article is more than 1 year old
Toshiba launches latest Satellite
Flagship notebook with Blu-ray trimmings
IFA Toshiba has announced a flagship notebook that, along with all the usual bells and whistles, also features a re-writable Blu-ray drive.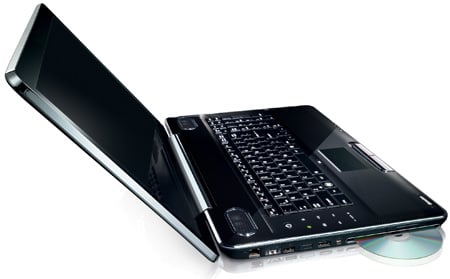 Toshiba's Satellite P500 features an integrated Blu-ray drive
The Satellite P500 has an 18.4in, 16:9 aspect LCD and comes equipped with either a Nvidia GeForce G210M - with 512 MB VRam - or the GeForce GT230M, with 1GB VRAM. The machine's screen is capable of displaying either 1680 x 945 or 1920 x 1080 resolutions, Toshiba added.
The "latest" Intel Core 2 Duo processors, capable of supporting up to 8GB of DDR2 Ram, will also feature inside the P500 - Toshiba said.
With its emphasis on multimedia, the machine also offers includes an HDMI port, embedded analogue and digital TV tuners, a remote control, Toshiba's Resolution+ DVD upscaling software and swanky Harmon Kardon speakers.
Toshiba's also included dual HDDs, provding storage-hungry buyers with up to 1TB capacity.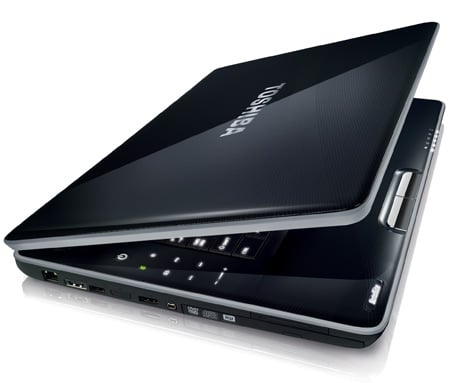 Fully-featured: no doubt a kitchen sink upgrade will appear in due course
The P500's connectivity features stretch to 802.11n Wi-Fi, S/PDIF digital audio interfacing, FireWire, eSata, PC Express slot, USB and Bluetooth.
Toshiba didn't mention which version of Windows will come pre-installed on the P500, but with the machine's launch date set for the fourth quarter, version seven seems a good bet. A price wasn't disclosed.®