This article is more than 1 year old
Touchscreen Vaios delayed
Launch put back to 'early 2010'
IFA Further details about Sony's plans for Windows 7-based touchscreen Vaio PCs have emerged. And it seems the Japanese electronics giant has suffered a set-back.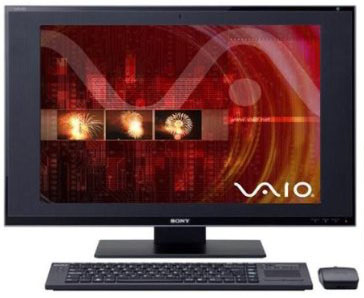 Sony's VGC-LV Vaio's will be the first blessed with touch, come 2010
Mike Abary, Senior VP of Sony's information technology products division, said back in July that touchscreen Vaio PCs would be introduced at the launch of Windows 7. The new OS is scheduled for release on 22 October.
However, a Sony spokesman at IFA in Berlin today told Register Hardware that the firm now doesn't plan to launch its first touchscreen Vaio PCs until "early in 2010".
No reason for the setback was given, but the spokesman added that Sony is only currently planning to launch touchscreen editions of its VGC-LV all-in-one Vaio range.
The Japanese electronics giant produces several other ranges of all-in-one Vaio PCs, such as the VGC-JS. Sony doesn't have any plans to make touchscreen Vaio laptops, either, the spokesman said.
Sony's first Windows 7-based touchscreen VGC-LV range of Vaio all-in-one PCs will start at around £2000 ($3264/€2294). ®