Windows Mobile 7 feature details mined
iPhone beating beta now?
---
Microsoft's answer to the touchy-feely iPhone will hit handsets next month. But it's only a partial answer.
Windows Mobile 6.5 will see limited touch-based input and motion controls, meaning its Windows Mobile 7.0 that Microsoft is really banking on against Apple's phone.
Microsoft's refused to discuss details of Windows Mobile 7.0, but blogger Stephen Chapman, known as UX Evangelist, has uncovered some information that points to features in motion, multi-media, and email designed to close the gap on Apple.
Chapman has mined the profiles of LinkedIn to find engineers who been talking about what they've been working with Microsoft in Windows Mobile 7.0.
Chapman also said he believes the first beta for Windows Mobile 7.0 has been released.
According to a slide Chapman published in May, Windows Mobile 7.0 software will be released in November followed by devices in April 2010. The slide, below, is from Microsoft's Danish gold-certified partner Commentor, which specialized in mobile along with information worker.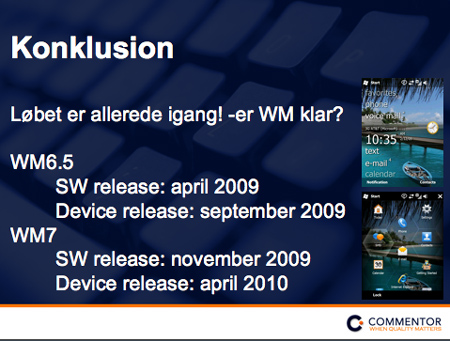 The Windows Mobile schedule, via Commentor, released by UX Evangelist
You can grab the full presentation, in Danish and PowerPoint, at the bottom of this page.
The dates could work, given Microsoft will hold its Professional Developer Conference (PDC) from November 16 to 19 and has used past PDCs to announce new technologies.
Furthermore, the Commentor slide talks of a Windows Mobile 6.5 device release in September. Those handsets have slipped only slightly. They are now due on October 6.
Going against a November software release is the fact the Commentor slide dates from April and since then, DigiTimes reported Microsoft will deliver an interim release of Windows Mobile 6.5 - next February - with Windows Mobile 7.0's being bumped to the fourth-quarter of 2010.
From the language of the LinkedIn profiles, it certainly sounds like much of the bread-and-butter work on Windows Mobile 7.0 has been done.
It looks like Microsoft's operating system will use Micro-Electro-Mechanical Systems (MEMS) for an on-board accelerometer and compass. The move suggests Windows Mobile 7.0 will work with applications that use maps and location, like Google Maps on the iPhone. Rather than Google Maps, though, you'll probably see integration with Microsoft's rival Bing Maps - previously called Virtual Earth.
MEMS integrate mechanical elements, sensors, actuators, and electronics on a tiny system that's suited to the size constraints of something like a phone.
Microsoft is looking at adding the ability to make video calls. According to one vice president of web development's post on LinkedIn he oversaw development of the "rich video call (AT&T Video Store) UI, session control, and porting of the IP Multimedia Subsystem stack to Windows Mobile 7".
It's not clear whether that means support for AT&T's service specifically, the service that was launched in July 2007, or if it was cited as a general example of video calling.
On the hardware side, Windows Mobile 7.0 will run on the same, highly optimized 500/600MHz microprocessor used by Palm's Pre: the OMAP 3430. The OMAP has been integrated with Broadcom's low-powered BCM4325 chip. Other chipsets Windows Mobile 7.0 has been designed to work with include Freescale.
Elsewhere, it seems Windows Mobile 7.0 phones will work with Microsoft's email systems. The Windows Live ID has been extended to work with the Exchange mobile client, there's synchronization with Outlook mobile, and the ability to work with Microsoft's ActiveSync to retrieve and synchronize emails from Exchange-based systems.
Microsoft licensed ActiveSync to Apple for use in the iPhone in 2008. It was a move that really threw open the gates of business to the iPhone, as so much business email is locked up in Exchange-based systems. ®