A BBC camera crew backed by biologists has identified a new species of giant rat. The massive rodent has been discovered living exclusively inside the crater of an extinct Papua New Guinea volcano.
The team first spotted the beast on footage from an infrared camera trap inside the crater of Mount Bosavi, in the country's southern highlands. Kasua tribe trackers accompanying the explorers then managed to capture a live specimen.
Cameraman Gordon Buchanan noted: "I had a cat and it was about the same size as this rat."
Team member Dr Kristofer Helgen, a mammalogist from the Smithsonian National Museum of Natural History, said: "This is one of the world's largest rats. It is a true rat, the same kind you find in the city sewers."
The example in question was an 82cm-long individual, weighing in at 1.5kg. It was captured at an altitude of over 1,000m and sports "a silver-brown coat of thick long fur" to help it survive the cold.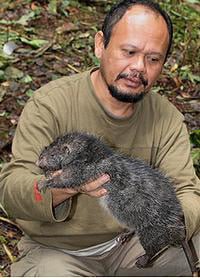 Initial investigation suggests the new "giant woolly rat" belongs to the genus Mallomys. A 2007 Conservation International excursion to New Guinea identified "another closely related giant woolly rat (pictured), which can weigh up to 1.4kg", albeit in the Foja Mountains in the north of the Indonesian half of the island.
Neither CI's monster nor the latest discovery have been formally named, although the latter has provisionally been dubbed the "Bosavi Woolly Rat". The other members of the genus Mallomys native to New Guinea are the Alpine Woolly Rat (Mallomys gunung), De Vis's Woolly Rat (Mallomys aroaensis), Rothschild's Woolly Rat (Mallomys rothschildi) and the Subalpine Woolly Rat (Mallomys istapantap).
The Bosavi Woolly Rat will make its TV debut on 22 September, as part of the The Lost Land of the Volcano series, which kicks off on BBC One tomorrow at 21:00 BST. The BBC has further details on the find, plus footage of the Bosavi Woolly Rat, right here. ®
Similar topics