The balance of power in China's internet search market could soon change, as the government orders home grown music services to clean up their acts. But it could be worse news for Wall Street investors who have backed the Chinese giant without fully assessing the risks.
According to sources cited in the Wall Street Journal, the Ministry of Culture will require search engines to provide links only from licensed music sources. This is ominous news for Baidu, which owes its singular success in keeping Google at bay - Baidu enjoys a 70 per cent market share - to a controversial music scheme, which The Register described a year ago, here/.
Our investigation discovered how Baidu "deep links" to unlicensed MP3 files, more than half of which are on a network of closely-related domains, which are unreachable outside Baidu. Domains are rotated, ensuring the MP3s are always available. By effectively running a Pirate Bay beside its main search engine, Baidu has managed to keep Google in a distant second place.
Google objected that its own superior search product was shunned by a rival offering free sweets. So in March, Google launched its own licensed ad-supported music service in China to compete with Baidu. Any MoC cleanup would force Baidu to compete on level terms.
But why is this bad news for Wall Street? Because not-so-canny institutional investors have piled into Baidu, on the basis that it's "China's Google". Google is gigantic, goes the logic, so a Chinese Google has the potential to be humungous.
Here's a list of top investors, at time of writing: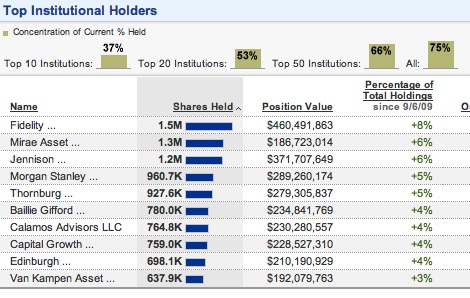 .
The source of Baidu's popularity isn't hard to see - nor is its vulnerability. A search rival offering a similar service to Baidu was busted last year. Without the traffic generated by music, Baidu will find commercial opportunities will be much more challenging.
You do wonder how these investment geniuses could overlook something so obvious to everyone else. ®
Similar topics