Leccy Tech Lotus has announced details of an engine designed specifically as a range extender for hybrid e-cars.
According to the Norfolk-based car maker, the three-cylinder 1.2l engine has been optimised to perform at two power generation points, developing 15kW (20bhp) at 1500rpm and 35kW (47bhp) at its maximum 3500rpm via an integrated electrical generator. Peak torque of 107Nm (79lb ft) is generated at 2500rpm.
The engine is made entirely of aluminium, with the cylinder block, cylinder head and exhaust manifold all part of a single casting. Dry weight is given as 56kg (123lbs) including the generator.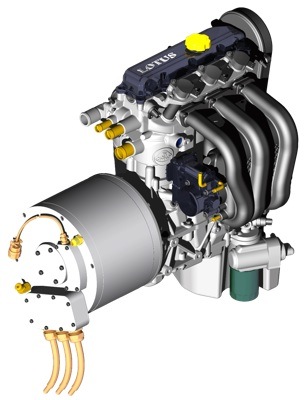 Lotus' range extender engine: destined for the upcoming e-Jag?
With a view to the US market, the engine will run on ethanol and methanol as well as unleaded.
The engine has been developed by Lotus as part of the Limo Green project, which also numbers Jaguar Land Rover, the Motor Industry Research Association (MIRA) and Caparo Vehicle Technologies among its supporters.
The project's goal is to develop a large luxury saloon with CO2 emissions of less than 120g/km, so it's more than likely that this is the engine that will power the range-extended hybrids that Jaguar and Land Rover are believed to be working on.
The Lotus Range Extender Engine will be officially unveiled at the Frankfurt Motor Show which opens later this month. ®