Office online and Windows Mobile: Ballmer's last laugh
Word the least of his woes
---
Radio Reg It wasn't the glazed expression or the tired nod. It was the dismissive laugh that characterized how Steve Ballmer and Microsoft failed to fully comprehend the iPhone.
"$500, subsidized with a plan!" That was the reaction of Microsoft chief executive to the unveiling of the iPhone by Apple wunderkind and control freak Steve Jobs.
Apparently, it came down to lack of a keyboard, which business types apparently can't do without. Why would you want touch when you could get some perfectly capable, $99 piece of crap running Windows from Motorola that does web, music, and email? There-ya-go kid, now run along.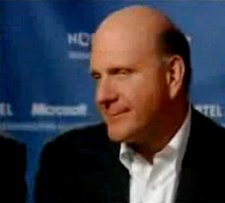 The eyes have it: Ballmer responds to the iPhone
Anyhoo, Microsoft lost market share, and now, it's pulling in every man Jack to work on Windows Mobile 6.5 and 7.0.
What went wrong and where is this all headed?
And why did Microsoft fail to deliver the promised technical preview of the web-based version of Office in August? As August expired, Microsoft claimed it had "tentatively" promised at its Worldwide Partner Conference the preview would be available in the August "timeframe." Well, The Reg was at WPC, and the words "tentative" and "timeframe" were not used. It was August, full-stop (period, for the Americans).
Are Office Web apps falling victim to corporate politics or is it problems in getting SharePoint 2010 - that Office Web apps will tap - to scale that are behind this delay?
And a world without Word? A US judge ruled Microsoft violated an XML patent in Word and ordered it to stop shipping the ubiquitous word processor. Microsoft will appeal this month, but Microsoft's already got a Plan B in the waiting to protect its $14bn Office business and bilk litigant i4i out of its juicy settlement.
Join Reg software editor Gavin Clarke and All-About-Microsoft blogger Mary-Jo Foley on MicroBite, where they look at why the Office Web apps trial was delayed, settle what you can expect from Windows Mobile in the coming year or so, and find out why Word will carry on regardless.
You can listen using our player below, MP3 download here or Ogg download here.