Space shuttle Discovery is preparing to undock later today from the International Space Station following the successful completion of mission STS-128.
The decoupling is due to take place at 19:26 GMT. Discovery will return to Earth on Thursday carrying the Leonardo Multi-purpose Logistics Module and departing Expedition 20 specialist Tim Kopra, who arrived aboard Endeavour on mission STS-127 back in July. He's replaced by flight engineer Nicole Stott.
Before sealing the hatches between shuttle and ISS at 03:41 GMT this morning, Expedition 20 and Discovery astronauts said their goodbyes for the benefit of the cameras: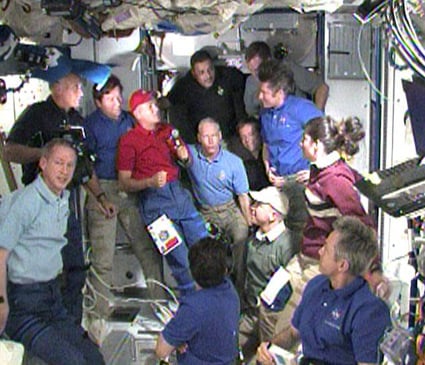 STS-128 comprised eight days of joint operations between the Discovery crew and ISS residents. Astronauts carried out three spacewalks to "replace experiments outside the European Space Agency's Columbus laboratory, and install a new ammonia storage tank and return the used one".
They also replaced a failed rate gyro assembly and installed avionics systems cables in preparation for the arrival of Node 3 "Tranquility", slated to lift-off aboard Endeavour on mission STS-130 on 4 February next year.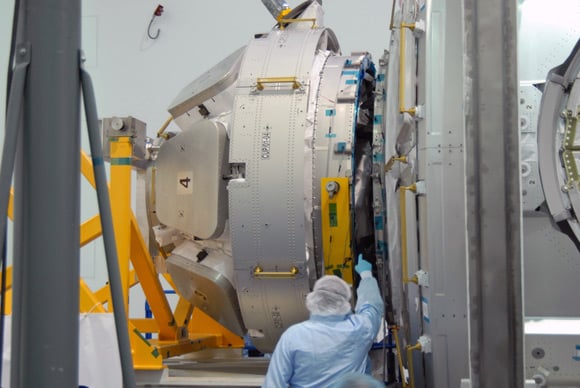 Tranquility represents the "last major United States addition to the space station", and comprises of expanded living space and a "six-windowed cupola" (pictured above being mated to Tranquility). Kirk Shireman, International Space Station program deputy manager, enthused: "This flight will, I think, grab the public's attention. It's just going to be a really, really neat module for those on board.
"The dream of being able to go out and just have an unencumbered view of space - we'll have it. You can open up all the windows and look around and really feel like you're out there." ®
Sponsored: Webcast: Ransomware has gone nuclear