This article is more than 1 year old
Spotify on iPhone: nice app, but no multitasking
A fatal flaw?
Review The Spotify application for the iPhone extends the usefulness of the service greatly - at the cost of a tenner a month. However the app has one show-stopping flaw: you can't play music when the application is in the background.
This is not a hindrance shared by the iPhone or iPod Touch's default music application - and even on the earliest iPods, you could play Blocks or check your diary while music continued to play. For some this may merely be an irritating quirk, but for others it could be a deal-breaker. The whole point of getting a top-of-the-range music player is for its versatility.
The free player is available to all through the Apple App Store - it asks for your Spotify user name and password when it's first run. If you're a Premium member, you're in.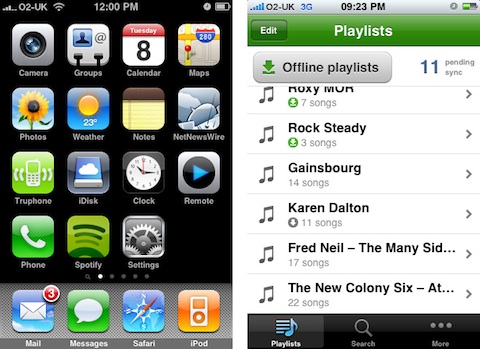 Grab music to play locally using "offline playlists"
The application allows you to cache your Spotify playlists, and for the enormous "celestial jukebox" music library to be perused, and songs played on demand, locally over a WiFi 3G connection. Such is the simplicity, that it'll take you longer to read this page than it will to find your way around Spotify's iPhone app. There are three tabs, the first two of which are Playlists and "Search", (which I found was only spasmodically available over 3G connections). The third is the About / Settings box, called "More".
Playlists can be added and deleted on the fly - which makes it a smarter client than the iPhone's native music player, as this welcome feature is missing from iPods. You can even change the order. It was possible, however, to manipulate the playlists regardless of whether the connection was 2G, 3G or Wi-Fi. Unlike the desktop, playlists can't be shared, nor can the URL or URI of the song be extracted.
From the Playlists tab, you can then select which lists to synchronize locally. The playlists are then populated in the background if you have an active WLAN connection. There is little control over when or how these downloads occur. I found that with an active WLAN connection, the local downloads began immediately. With just a 3G connection available, they didn't. Unfortunately, no indication at all is given - for example, "connect to a Wi-Fi network to download these songs."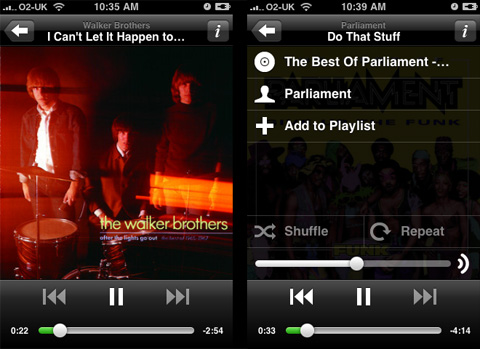 Tap the cover art to bring up a few more options
My first attempt to use Search over 3G was flawless - and incredibly, songs began playing immediately, and could be skipped, with very low latencies. This is a hallmark of the Spotify desktop app, and the engineers have managed to reproduce the experience on a mobile. Or at least sometimes. At other times even with 5 bars of 3G, the Search was mysteriously greyed out and unavailable. Similarly there's no explanation offered to the user.
Over the page: is it any good?