With a call for chip makers to "stop talking about processors" and "start talking about usage", AMD has launched its awaited Vision brand for HD mobile computing.
As expected, Vision systems will come in three forms: a plain version, Premium and, at the top of the heap, Utimate. It's a "new way to buy PCs", says AMD, but it's just a variation on the old 'good', 'better', 'best' approach to product segmentation.
Vision standard defines a casual gaming, music listening, photo viewing, DVD watching, internet browsing workload. If you want to do any of these at the same time, play games more frequently, edit photos, watch Blu-ray Discs and/or convert video for iPod viewing, you'll want a Vision Premium system, AMD reckons.
Ultimate is for folk who extend that list to video and music editing, play online games and want a machine that will double-up as a DVR.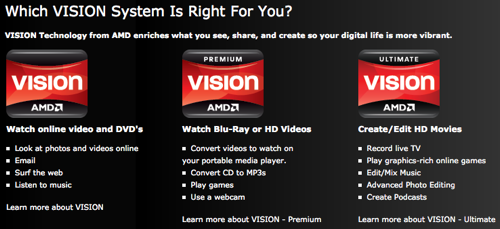 Vision's success ultimately depends on how well AMD gets punters to associate these usage patterns with its three logos.
The basic Vision centres on Athlon X2 and ATI Mobility Radeon HD 4330 graphics technology. Premium takes the same visual chippery but combines it with an Athlon II Dual-Core CPU or a Turion X2. To get Ultimate branding, vendors need to pack a Turion II Dual-Core and a Mobility Radeon HD 4650 chipset into their offerings.
Down the line, Athlon II and Turion II will move down a grade and be then accompanied by Mobility Radeon HD 4200. At this point, the new Ultimate spec will be a Turion II Ultra and Mobility Radeon HD 4570 graphics.
AMD's vision for Vision takes in thin'n'light laptops as well as mainstream machines, though this segement's not up to delivering Ultimate functionality.
Vision standard here means an Athlon Neo X2 processor and Mobility Radeon HD 3200 graphics. Vision Premium calls for the same family of CPU but Mobility Radeon HD 4330 graphics.
There's no mention of wireless connectivity in all this, which might be what differentiates AMD's Vision from Intel's Centrino, but then Intel is turning Centrino into a brand not for notebooks but for its wireless chips.
Will we see laptops branded with both Vision (CPU and graphics) and Centrino (Wi-Fi card)? It's possible, but we suspect not.
Vision isn't a notebook-only brand. In Q1 2010, AMD plans to Vision Black for enthusiast-oriented desktop PCs. It will undoubtedly incorporate the company's Black Edition overclocker-friendly CPUs. ®
Similar topics