Dell teases with Adamo XPS website
Latest model in firm's super-thin laptop line
Dell is on the verge of unveiling a laptop thin enough to compete with Apple's MacBook Air.

'Crafted to fall in love with', claims Dell
The company has launched a teaser website for the latest edition to its Adamo laptop line – the Adamo XPS, which measures a mere 10mm thick.
Dell's original Adamo – which starts at $1999 (£1419/€1536) and was launched back in March – measures 16mm at its thickest point. The new model features a 1.2GHz or 1.4GHz Intel Core 2 Duo processor, 2GB of DDR 3 memory and a 128GB SSD.
The PC assembler's posted picture of the Adamo XPS doesn't reveal much in the way of technical features – the machine's shown from behind and with its lid down. But we can at least see that the original model's bulky rear has been trimmed and streamlined.
The result is an Adamo XPS that appears much more Air-like than its predecessor, well, at least from behind.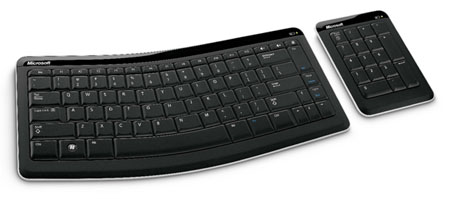 Microsoft's keyboard is thinner than a AAA battery
A launch date or price for the Adamo XPS hasn't been announced yet, but if you're looking for ways to streamline your desktop in the meantime then you could do worse than Microsoft's latest keyboard – the Bluetooth Mobile Keyboard 6000.
Apparently "just a few millimetres" thicker than a AAA battery, the wireless keyboard employs the firm's established comfort curve for a supposedly ergonomic typing experience.
Microsoft hasn't spelled out how much the keyboard will cost in the UK, but has listed a North American price of $90 (£54/€61) and launch date of mid-October. A separate Bluetooth Number Pad – priced at $45 (£27/€30), will also be available at launch. ®