Controversy has ignited over last week's statement by the Featured Artists Coalition. The group, which is a sort of Emu to the Music Managers' Rod Hull, released a feisty contribution to the Digital Britain consultation process last Thursday. It went practically unnoticed until today.
The Artists Coalition formed a year ago, and represents around 50 established pop stars, with a board of directors including Annie Lennox, Billy Bragg and davefromblur, née David Rowntree. But of the nine Members of the Advisory Board, four are music managers and the fifth chairs the Music Managers Forum.
No one knows the labels better than managers. So the FAC can get to say things that music managers would like to, but don't. While the Managers Forum's own response was cautious, this was a provactive Spartist rallying cry, all but urging musicians to give up on recordings and sell T-shirts instead. (FAC's davefromblur sits on the Open Rights Group Advisory Committee.)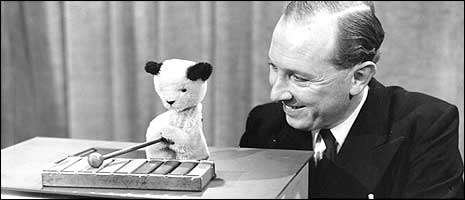 Curiously, it also carried the endorsement of BASCA, the British Academy of Songwriters, Composers and Authors. BASCA chief Patrick Roscow is anything but freetard-friendly, as this critique of the Pirate Party shows. We've spent the past week trying to get BASCA to comment on the statement, but it appears reluctant to endorse it. The mystery of how BASCA's endorsement arrived on the statement remains.
"The FAC is allowed to be a bit emotive," the group's spokesperson Jeremy Silver told us.
But was it entirely accurate, we wondered? Mandelson has all but ruled out disconnections - temporary suspensions for hardcore refuseniks may be as far as sanctions go. Temporary suspensions are favoured by UK Music, the coalition that represents all the competing interests within the British musi industry. So the only people who seem to want them are the BPI, and davefromblur's Open Rights Group.
The ORG is using disconnections to drum up support.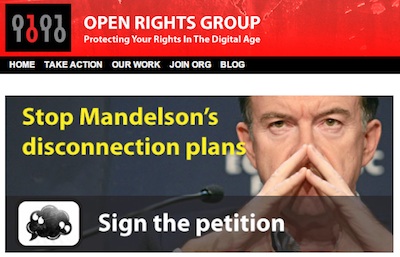 ORG is using Panto villain Mandelson to collect email addresses
"Mandelson doesn't want disconnections? That's even better," Silver told us.
Elsewhere the document claims that substitutional arguments used by the music business. This is where a person uses one service in preference to another. It's been exhaustively modelled, with P2P coming out surprisingly well. But FAC rants that these arguments are "in reality, no more than 'lobbyists' speak' with "little support from logic". "No economist would seek to weave such a number into a metric aimed at quantifying a 'value gap' for the industries challenged by P2P."
That might comes as news to Will Page, for example, the PRS For Music economist, who's looked at the argument in several areas; and to the industry's Value Recognition group, which modelled substitution and decided it didn't look too bad. Page is on holiday and unavailable for comment.
Weirder still, the FAC invokes a long-forgotten policy to rally support:
"The failure of 30,000 US lawsuits against consumers and the cessation of the pursuit of that policy should be demonstration enough that this is not a policy that any future-minded UK government should pursue."
But lawsuits against filesharers dropped off the UK agenda years ago. The BPI has found an unlikely ally. ®