3-tonne robot flying saucer offered to world's militaries
Norse-god angel rescues Brit hover-ship firm
---
DSEi A struggling British firm, restored to life by an anonymous private backer, is exhibiting a concept "flying saucer" aircraft able to lift a payload of one tonne, as well as smaller surveillance models down to pocket size. Company reps say that the firm is in contention for a significant European naval contract.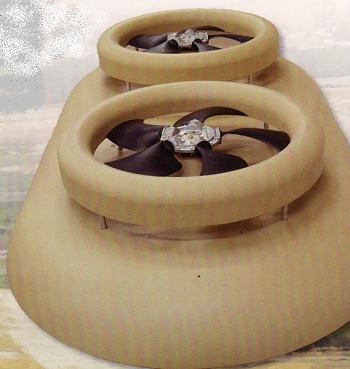 Not so much a flying saucer as a flying bathtub.
Regular Reg readers will naturally put the words "British" and "flying saucer" together and get GFS - Geoff's Flying Saucers, the firm started nine years ago by hovercraft engineer Geoff Hatton. Hatton was determined to produce a saucer-style flying machine making use of the Coanda effect, in which air blown onto a curved surface clings and reduces the pressure it exerts.
In the case of a GFS saucer, the air is blown over the upper curve of an inverted bowl shape, so causing the bowl to generate lift from the greater pressure beneath it. During its eight years of life, GFS managed to take the idea from concept through tethered tests to small electrically-powered prototypes. Unable to raise any further funds, however, GFS folded at the end of last year.
But now GFS' assets and technology have been bought up by a new firm, Aesir, privately owned by a single unnamed shareholder. Aesir is now exhibiting concept machines once more and hoping to sell several designs based on the GFS Coanda-saucer tech to military customers. Aesir engineer Steve Potter took the Reg flying-saucer desk through the models today at the DSEi arms fair in London.
First up is Vidar, a plate-sized electric job which the company thinks might have endurance of 15 minutes carrying a small surveillance/comms package. It could be flown into a building in order to generate floor plans ahead of an infantry assault, for instance. One of the Coanda-saucer's strengths is that it isn't as vulnerable to impacts against walls, ceilings etc as a more conventional minichopper.
Next is the "median" design, Odin, a 1m-diameter job driven by a miniature Wankel rotary engine running on JP-8 jetfuel for endurance of an hour. GFS was hoping to assemble just such a machine before it had to shut down. Aesir thinks that Odin could serve as a reconnaissance or surveillance machine outdoors, or be used for bomb-disposal tasks. The firm now has a flying demonstrator in this general class, named "Embler".
Also on the stand at DSEi yesterday was a mockup of a turboshaft-powered "heavy lift" unmanned cargo saucercraft capable of carrying a tonne and weighing perhaps 1500kg dry - in other words with a presumable max takeoff weight in the 3-tonne region. The field of unmanned combat resupply/casualty evacuation - perhaps in urban fighting too dangerous for helicopters - is seen as a possible market for unconventional UAV designers.
Even so, Potter told the Reg, "it's just a concept. It's meant to stimulate conversation, really."
Which is not to say that Aesir hasn't got higher hopes for its other designs. Potter says that the firm is in contention against other UAV providers to become part of a naval project with a prime contractor he declined to name. If Aesir is selected, its saucercraft could soon be flying from the warships of "at least two European navies".
If not, though, the saucers may continue to go nowhere. Even a wealthy private backer with a fondness for Norse gods probably can't turn the concept into reality without help, and selling to military customers is notoriously difficult without the involvement of major, politically connected arms firms.
"We need a prime contractor," Potter acknowledges. "We can't do it all ourselves." ®