Japan hurls first space freighter at ISS
No pressure, maybe
---
Japan's first unmanned space freighter was launched today, stocked with cargo and equipment for the International Space Station.
The H-II Transfer Vehicle (HTV) blasted off from the Tanegashima Space Center in southern Japan at 1:01 pm EDT (17:03 GMT) atop an H-2B rocket, which was also making a maiden flight. The spacecraft's success will be vitally important to the ISS as another way to deliver crucial equipment to the orbiting station after NASA's space shuttle fleet is retired next year.
To date, the orbit outpost's care packages been hauled by the American Space Shuttle, Russian Soyuz and Progress, and more recently, the European Space Agency's Automated Transfer Vehicle (ATV).
But unlike automated craft built by Russia and Europe, the HTV is designed to carry both pressurized and unpressurized cargo. That comes in handy for the ISS's Kibo laboratory, which recently added a "front porch" to let astronauts expose experiments to space.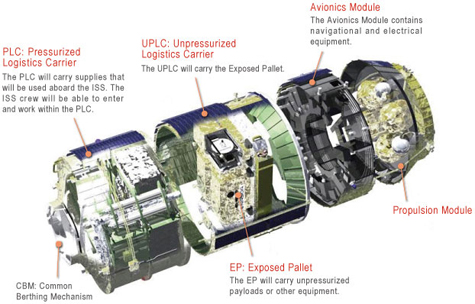 HTV's insides, credit: JAXA
The HTV also departs from other unmanned space freighters by the way it docks with the station. When the HTV approaches, it will be positioned about 10 meters away from the ISS, at a relative stop. The station's crew will then use the ISS's Canadian robo-arm to grab hold of the HTV and berth it to the Harmony module's Earth-facing port.
The HTV is expected to reach the station on September 17, loaded with about 3.5 tons of food, supplies, and experiments. The four meter across by 10 meters long space freighter can haul a maximum of six tons, but JAXA is taking it easy for the debut.
After about a month, the the $20 billion yen ($217m) space freighter is expected to detach from the outpost and return to Earth, burning up as it enters the atmosphere.
The vehicle is also designed to be modified in the future to carry humans - and quite understandably - have a way of returning to Earth without being reduced to charcoal. ®