This article is more than 1 year old
Motorola unveils Googlephone for the Tweetbook set
T-Mobile in the US, Orange in the UK
Mobilize 09 Motorola has unveiled its first Android phone, a long-promised effort to revive the company's floundering smartphone business.
Sanjay K. Jha, Motorola co-chief executive and the head of the company's mobile devices division, announced the Motorola Click Cliq this morning at Mobilize 09, a mobile-obsessed mini-conference in San Francisco, California.
In the US, the phone will be available only from T-Mobile, America's forth most popular carrier, and it uses a new Motorola-developed custom interface dubbed Motoblur, designed to provide access to a host of popular messaging web services - including Twitter, Facebook, MySpace, Gmail, and Yahoo! mail - from a single screen.
"Messaging is so important," Jha said. "People want to stay connected... data communication is what will provide the differentiation between smartphones."
Renamed the Moto Dext, the phone will also be available global from Orange in the UK and France, Telefonica in Spain and America Movil in Latin America. And Jha said Motorola would unveil a second Android Motoblur phone "in the coming weeks" and that "many more" globally in 2010.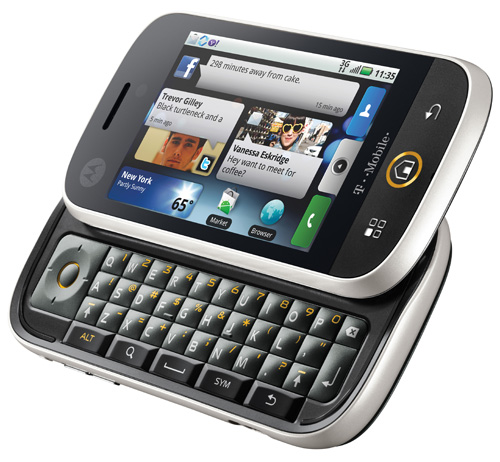 Mobile blur: the Motorola Cliq
Motorola had promised its Android phones would be in place in time for the US Thanksgiving and Christmas holidays - and the company could certainly do with a shopping season fillip. For the second quarter of 2009, Motorola reported mobile device sales of $1.8 billion, a 45 per cent drop from 2008. Twenty five years after the company introduced the first commercial cellular phone, its mobile division finished Q2 with an operating loss of $253 million.
That's actually a 50 per cent improvement over the division's Q2 2008 loss, but the company sold a mere 14.6 million phones, accounting for about 5.5 per cent of the global market.
Jha was hired away from Qualcomm last year to resuscitate the company's venerable mobile business, and today marked his first major market play.
The Cliq/Dext includes a five megapixel camera, a 3.5mm headset jack for music, Wifi, a built-in GPS, and a hardware keyboard that slides out from behind a touch screen. But what Motorola hopes will set it apart is its interface, build atop Google's open-source Android mobile operating system.
"The Android operating system gives us a platform to deliver to this opportunity to mobilize the internet," Jha said. "It also gives us a platform where we can innovate and enhance the consumer experience... it also allows for competitive differentiation, while offering a well developed ecosystem that really is growing daily now."
Jha pitches his Motoblur interface as something that lets you access all your communication apps and contacts from a single screen. "It gives you contacts, feeds, messages, email, photos, and much from sources like Facebook, Twitter, MySpace, Gmail, Yahoo!, and corporate email and automatically serves it up on your home page just the way you want it," Jha said [We'll see about that -Ed].
"No opening and closing of application menus. It's all front and center on your home screen and integrated deep into the corners of the device you can communicate just how you want." [We'll see about that too. -Ed]
Asked if Motoblur and the Motorola Cliq marks the company's last chance for a comeback, Jha said: "It's a start... over the next 15 to 18 months, we will deliver multiple tens of products and evolve out Motoblur service. Is this a make or break phone? No. It is a very important starting point." ®