This article is more than 1 year old
Nokia 5530 XpressMusic
Budget touchscreen phone, anyone?
Review Nokia's touchscreen user interface has not had many outings. We've seen it before in the original Nokia 5800 XpressMusic and in the much more highbrow, Qwerty keyboard toting N97. Now we have a third appearance in the shape of another XpressMusic handset, the 5530, currently an exclusive offering from Carphone Warehouse from £130. To reach that price some compromises have had to be made. So, while Wi-Fi is here, as well as the ubiquitous Bluetooth, the handset does not support 3G and there is no GPS.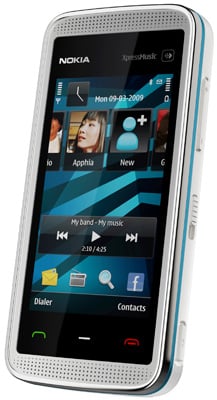 Nokia's 5530 XpressMusic: touchscreens shouldn't go any smaller than this
The 5530 XpressMusic isn't all that different to look at to the 5800 XpressMusic. It takes a candybar shape, is mostly screen on the front, and has an array of three buttons beneath the screen: call, end and menu. Like the 5800, it is narrower than the standard touchscreen fare.
The 640 x 360 resolution screen delivers clear, sharp viewable information indoors, but outside it was a bit of a pig to see in bright sunshine. The resolution is the same as the 5800, but the screen size is reduced from 3.2in to 2.9in. That reduction might sound slight, but it makes a big difference in terms of usability, and we think it is about as small as a touch screen can go. Overall the phone measures 104 x 49 x 13mm and it weighs 107g.
The build feels fairly solid, and the plastic materials are nowhere disguised as faux metal. In fact, the stainless steel surround to the screen is heavily disguised as black plastic. A red band sits round the edge of the casing, which is otherwise black. There is a camera lens on the back of the casing with a small LED flash unit. Top and bottom on the front are two speakers for stereo output from the handset itself.
Nokia has managed to put a 3.5mm headset connector on the 5530 XpressMusic, which is essential for a music-focused phone. However, there are two problems in this regard. The slot is on the bottom edge of the handset rather than being in its optimum location on the top edge. This isn't a deal-breaker, but more of an issue is that the provided headset is one piece. The headset delivers reasonable quality sound, and benefits from round in-ear buds, but really we'd have preferred a two-piece headset to use our preferred headphones.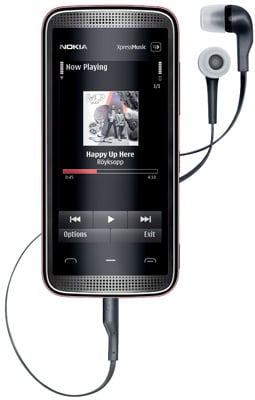 All in one headset assembly limits options
There are big, finger friendly shortcuts to contacts and four user configurable apps on the home screen. On the front of the handset just above the screen is the XpressMusic button we first saw in the 5800. Tap this and a menu drops down up giving you access to music, images, video, the Web and online sharing.