This article is more than 1 year old
Nokia 5530 XpressMusic
Budget touchscreen phone, anyone?
As for the music player, the headphone output could be a tad louder and, as per usual, the stereo widening effect is best avoided – although it does produce some surprises from the gutless low-fi stereo speakers. However, with headphones, phasing artefacts are pronounced and the loudness option kills mid-range sounds too.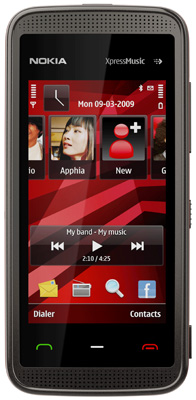 Light touch: compromises are inevitable at this price point
Video playback tests of widescreen MP4 content were actually quite watchable. The colours appeared bright and vivid and there's an aspect ratio option to show the whole of the movie, a zoomed version to fill the screen or a stretched option, presumably to correct squashed 4:3 clips. The speakers are plenty loud and seemed better suited to this sort of content rather than being exposed to the listener's fidelity expectations with music alone.
Nokia puts battery life at 4.9 hours of talk, 14 days on standby and suggests you'll get up to 27 hours of music playback. Not in our world. From a full battery charge it managed just over 6 hours of music playback. Ideally we'd want eight hours or more from a phone with music playing pretensions. Still, call quality was fine with it quickly re-establishing reception when emerging from London's Underground.
Verdict
There are some compromises on features to get to the price, including a screen which borders on being too small for a touchscreen, the absence of 3G and GPS, lacklustre battery life and a mediocre camera. If you are on a budget and want to try the touch edition of S60 then this is your only option, but the overall experience is not in the same ball park as you'll get with devices whose touch interface is designed from the bottom up, and the absence of higher end features arguably leaves this handset hampered in some key respects. ®
Thanks to Mobiles.co.uk for the loan of the handset.
More Phone Reviews...

Samsung
S8000 Jet

BlackBerry
Curve 8520

HTC Hero

LG
GD900 Crystal

Nokia 5530 XpressMusic
Not without its budget constraints, nonetheless, it delivers touchscreen tech to a wider market than can afford the N97 or 5800 XpressMusic.