Apple has approved an app for the iPhone and iPod touch that allows access to RealNetwork's Rhapsody music-streaming service. It's now available on the App Store.
The free app - called, unsurprisingly, Rhapsody (warning: App Store link) - was submitted to Apple's App Store guard dogs late last month. Now that it has been approved, you can access the eight million-or-so-songs provided by the Rhapsody service for the monthly fee of $14.99 required for a subscription to the company's Rhapsody To Go plan.
The interface is straightforward, with a surprisingly quick search function and a broad range of selections - who knew, for example, that there are 163 different versions of Bohemian Rhapsody?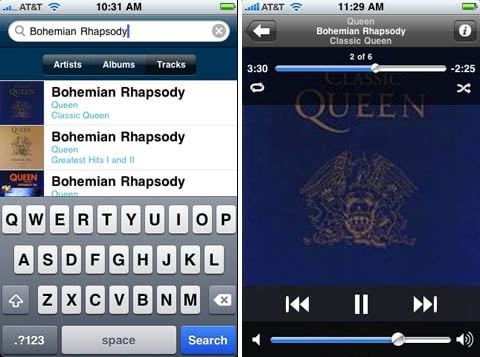 Searches turn up a ton o' tunes (left); volume and transport controls are available while playing (right)
That's the good news - well, "good" if you've got the free cash and a desire to explore that many songs. The bad news is that according to The New York Times, music is streamed at a mere 64kbps.
RealNetworks did not immediately respond to our request for confirmation of that figure, but when we compared tunes streamed to our iPhone 3GS with the same tunes ripped at a mere 128kbps and played using the iPhone's iPod app, Rhapsody's sound quality was audibly degraded.
Nothing heinous, to be sure, but noticeable. And we're not alone in our opinion. One App Store reviewer, scottymoon, put it this way in his review on the App Store: "Unfortunately, they've forgotten the most important thing... sound quality."
And then there's the unfortunate fact that Apple doesn't allow third-party apps to run in the background, although its own iPod app is granted that privilege on the iPhone.
If you're listening to a tune in Rhapsody on your iPhone, for example, and you receive a phone call, the app will close and you can answer the call. When you hang up, Rhapsody will relaunch - unfortunately, though, you will have lost you place in the tune you're listening to, and will have to start over.
That's all well and good for, say, 2:29 of the Ramones I Wanna Be Sedated, but a true pain for the langorous third movement of Beethoven's Ninth. Luckily, a transport slider is available during playback to jump ahead to where you left off.
The admission of Rhapsody to the App Store was a bit of a surprise, seeing as how Apple wants you to buy tunes from them, not rent them from someone else. However, Cupertino may be banking on the possibility that after you've heard and become enamored with a Rhapsody song, you'll want to buy a higher-quality version of it from the iTunes store. ®
Similar topics