Leccy Tech Mercedes Benz is working at "full steam" to bring a plug-in hybrid version of its S-Class über saloon to market.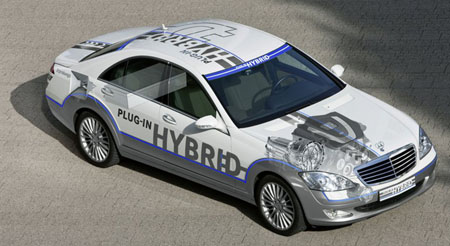 Mercedes' Vision S500 plug-in hybrid
That's according to Mercedes' Dr. Thomas Weber, who today announced the Vision S500 plug-in hybrid.
Powered by a 3.2l V6 petrol engine and a 44kW (59bhp) electric motor, the Vision S500 is apparently capable of travelling up to 30km (18.5 miles) using only the energy stored in its 10kWh lithium-ion battery pack.
Unlike the existing S400 BlueHybrid that houses its battery under the bonnet, the Vision S houses its power pack in the boot because of increases in size and weight.
Mercedes reckon the Vision S500 returns an average of 88mpg, while emitting 74g/km of CO2 - not bad for a luxury saloon.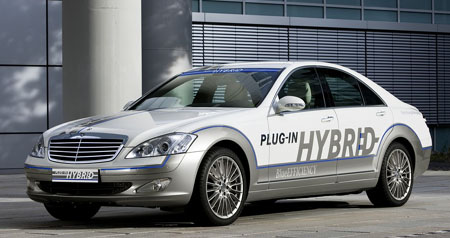 Run for 30km on the 10kwh battery pack
The car can also hit 62mph in just over five seconds and keep on rolling to an electronically limited top speed of 155mph, Mercedes claimed.
Despite working at full steam, Mercedes still couldn't reveal when you will be able to wander into your local dealership and buy the Vision S500. ®