This article is more than 1 year old
Naked iPod touch dangles its FM radio
And some 802.11n
Apple's new iPod touch includes a wireless chip capable of handling 5GHz WiFi networks and FM radio signals.
In tearing open a third generation touch - a device unveiled just this week by a "vertical" Steve Jobs - our friends at Ifixit discovered a Broadcom BCM4329 chip, which supports the 802.11n WiFi standard as well as an FM transmitter and receiver. The touch's more illustrious cousin, the iPhone 3GS, uses an older Broadcom chip that lacks such support, offering only 802.11a, b, and g and Bluetooth.
You can see the new chip here: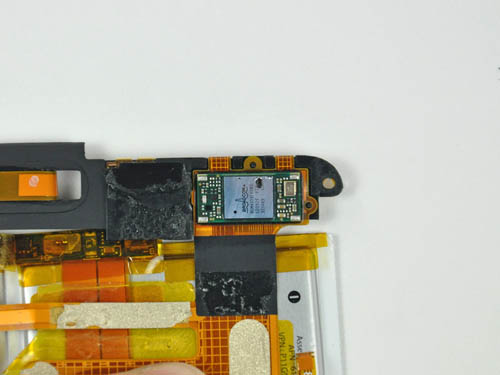 Nude iPod touch and its wireless chip
Previously, eagle-eyed fanbois had noticed references to the Broadcom BCM4329 in the boot script for beta versions of Apple's new iPhone 3.1 software, which runs both the iPhone and the touch. And now we know why.
But Apple has not built 802.11n or FM support into the software, and it has yet to add the antenna needed for FM radio. As Ifixit points out, the second-generation iPod touch debuts with Bluetooth hardware, but it wasn't enabled until months later, when Apple rolled out its iPhone 3.0 software.
Ifixit also says that the iTouch includes room for a still camera, after it noticed a 6- by 6- by 6-mm space between the Broadcom chip and the device's wireless antenna. But it did not find board headers for camera cables: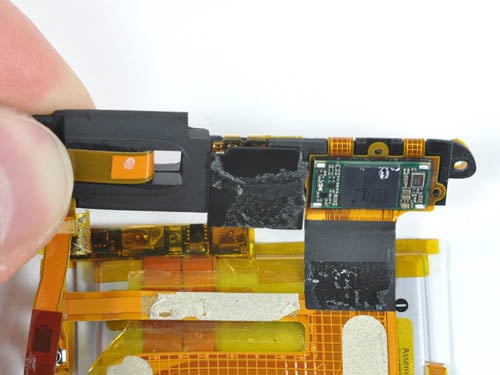 A space where a camera isn't
Why does any of this matter? It doesn't. Unless you're a cult member. ®