It's flattering - and clearly a bit nuts - to discover I'm now as much a part of "Twestival" story as the organisers. But when Sky News wanted to cover this week's halo-polishing, conscience-saving fundraisers, they twigged that there's another point of view other than "new media yuppies save the world". Would I like to take part? How could I refuse?
First, some context.
Twestival calls itself "a series of tweet-ups with a social conscience". Last February, it had been billed as the "Live Aid" of new media, even before a penny had been raised. LiveAid raised £150m. Unlike Live Aid, however, the Twestivals fell embarrassingly short of the organisers' estimates. Only about 25 per cent of the target was met. For example, in London, over 700 new media Twitterers met, and congratulated each other for being wonderful. And for being so jolly clever, because they're all on Twitter. All they had to do was get drunk (no marathon running involved) and throw some money into a bucket.
Now, bear in mind that these are some of the best-paid people in the UK. They're employed in marketing, advertising, public relations, web design and journalism - competitive jobs in an expensive capital city. But they were so busy air-kissing, they forgot to put their hands in their pockets. More money probably fell on the floor of Tube trains later that night, as these yuppies slumbered their way home, than they raised for charidee.
This time the organisers have learned something from the earlier experience. London Twestival asks for £15 up front for a ticket - guaranteeing they will extract at least some money from the tight-fisted expense account holders. The target is more modest, too. The recipient charity ChildLine hopes for £16,000 from ticket sales and sponsorships. It should sail past this target with ease.
To put this generosity in context, a technology company recently put £4,000 behind the bar for free drinks for journalists and public relations people to mingle at an event last Sunday. It attracted a couple of dozen people. Surely the combined worlds of technology, marketing, advertising and PR can do even better.
So what did I tell Sky? They were obviously up for a bit of yuppie-kicking.
The problem the Twitter crowd had forgotten is that giving to charity and boasting about it is considered poor form. It's worse when it fails to raise much money. Worse still, when the bragging donors are seriously wealthy. I pointed out that most charity is unpaid, or low-paid care work - and the people who do it aren't desperately keen to get on telly, or congratulate themselves on their moral superiority.
But there's something else at work. I also pointed out it's been a promotional bandwagon for the companies involved - and these companies have a whiff of desperation about them, now. A lot of them are new media marketing outfits who need to prove the power of new media marketing (or "social media" to use the current buzzword). They've lived high on the hog for the past few years, bilking companies that generate real wealth. Twestival helps promote the hype that keeps them in business.
But now the maths is being done, and the companies who retain their services are discovering that the benefits have been vastly overstated. Social media marketers are having to juke the stats to show they have any effect. PR and marketing are beginning to value the traditional dark arts again. With the bubble bursting, it leaves us with a nervous, parasitic class, and deep down, it's one which knows that "new media" has added very little to the nation's (or anyone else's) wealth. So Twestival helps assuage the guilt. It takes the pain away.
So lauding Twestival is like saying the Krays did a lot of good work around the community. It's true. But it's really missing the point.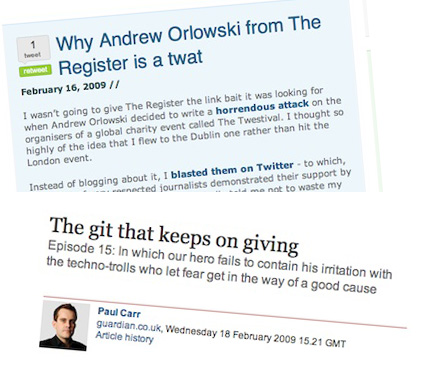 You can see how insecure the new media marketing types are from the reaction to my last piece. Since then, they've become even more insecure. The bubble is bursting.
The cost of social media living
The Sky presenter had a nice put-down for me, though. Quoting my 'Jam Festival' piece, he asked: if Twittering was the journalistic equivalent of picking fluff from your navel, wasn't I just doing the same?
That's a fair cop.
But don't underestimate, I said, the contempt people have for we metropolitan media types when we fawn over each other. Or write endless stories about Twitter. Or write about how great and generous we are. I think the point was made. While putting the boot into new media yuppies hasn't quite attained the national sport status of banker-bashing, it's getting there.
The contempt would be even greater if people understood the true cost of the new media caper. Marketing and advertising (things we do well here in the UK) are an expense, one that's ultimately borne by us. It's one of the reasons things are so expensive in the UK. So when companies waste millions on "social media" shenanigans that have zero return, we foot the bill.
The good news is this is being realised across many industries now. The generation after this one will be thinking of technological innovation that creates wealth, rather than squanders it in an alcohol haze of self-congratulation. I've done my bit. ®
Andrew warmly welcomes your Comments