iPhone App Review Apple added a true GPS pick-up to the iPhone more than a year ago, but it's taken that long for TomTom to release an application to make use of it. Even now, it's not a complete offering. The software is there, but the car kit - once the sort of add-on bundled with applications, but now sold separately - isn't available and its release has just been put back to October.
We were going to hold back on our review of TomTom's iPhone application until the mount was ready for testing. But we've been using the app anyway, and have managed fairly well without the peripheral.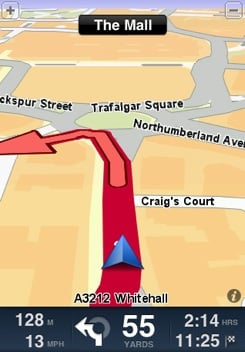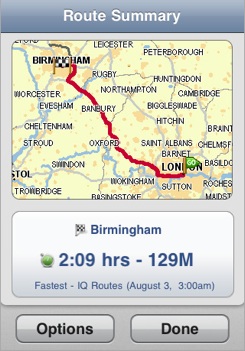 TomTom's TomTom for iPhone: does the basics well
Credit for that has to go to the GPS chippery within the iPhone 3GS we used to test TomTom's software. Mounts are handy for two reasons: to put the screen within easy reach of fingers and eyeballs, and to ensure the GPS receiver can get the best signal.
We were forced to put the iPhone in a cupholder between the gear lever and the car's ciggie lighter. Even down here, with only a sliver of windscreen above it roof level, the 3GS was able to feed TomTom the location information the app needs to keep us on the right track.
TomTom provides the basic array of route-planning facilities it provides on its dedicated devices with the exception of traffic warnings, though it does use historical traffic data to help it work out whether any of the roads on your journey get particularly clogged at the time you'll be steering onto them.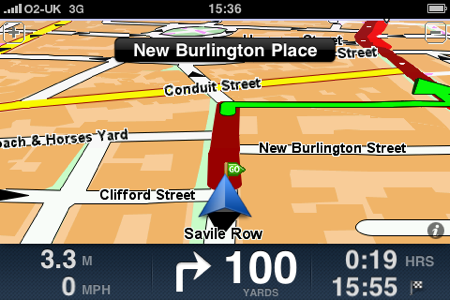 The maps aren't as up to date or as accurate as their producers seem to think they are, but that's true of every satnav we've tried. Not so the lag some buyers have complained about, but the gap between our location in the real world and our place on the map never put us into difficulty.
Take a wrong turning, and TomTom will recalculate your route, though not as quickly as some satnavs we've tried. It'll ping a loud warning when there's a speed or traffic light camera coming up. Other than lane guidance, there are no major absences to trouble folk who use on their satnavs for driving, and it will handily tune routes to accommodate the needs of cyclists and pedestrians too.
The iPhone UI lends itself well to satnavs' step-by-step entry of route planning information, and TomTom has generally adapted one to the other well, even to tying the app into the handset's Contacts database, a connection phone-based satnav apps often do poorly. It'll make use of the full width of the screen if you rotate the iPhone.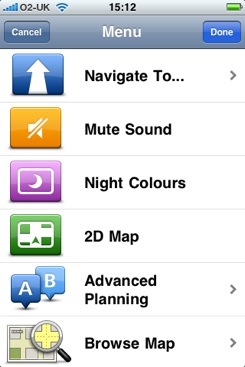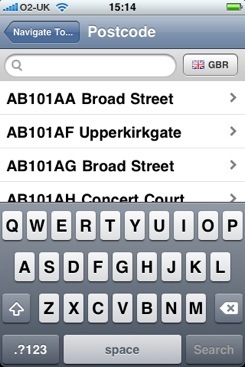 The menu system is easy to use, but it can be quirky
That's not to say it's complete: TomTom's online Live Services aren't supported and the path by which its camera database and maps can be upgraded is ambiguous. You can't add your own POIs to the app's extensive list, or import favourite locations recorded on other TomTom devices. You get an array of voices for reading out instructions - but not street names. The path you've taken through the menu structure isn't always accurately reproduced when you backtrack.
The UK and Ireland package comes to £60. Other locations are available, each as its own app. Map data undoubtedly counts for a lot of cost, but we think £60 is still steep for a software-only offering.
Verdict
The next version of TomTom's iPhone app is likely to be well worth a look, but don't rush to buy the first version unless your needs are modest. It does the basics, and it does them well, but it lacks many of the refinements seen on the company's satnav boxes. We use satnavs occasionally, so this didn't trouble us, but people who rely on them may be disappointed. ®
Compatible with iPhone 3.0
Tested on 16GB iPhone 3GS

TomTom UK and Ireland
Not cheap as iPhone apps go, and not as complete as TomTom's own satnav hardware. It'll do for casual use, but we'd recommend waiting for the next release.
Similar topics