This article is more than 1 year old
US gov opens Cloud shop to combat runaway IT costs
Get free stuff from Apps.gov
Federal CIO Vivek Kundra has unveiled a new portal where government agencies can shop for their very own clouds, a part of the Obama administration's effort to deliver the US government from the IT dark ages.
Today, at NASA's Ames Research Center in California's Silicon Valley, Kundra took the wraps off Apps.gov, a storefront for online business and productivity apps, IT services, and, yes, social networking tools.
"We've been building data center after data, acquiring application after application. Frankly, what's that done is it has driven the cost of investment in technology across the board, and it has led to the doubling of acceleration of energy consumption from 2002 to 2006," he said. "We cannot continue on this trajectory.
"There is innovation that is happening across the country. What we need to do is to find a more innovative path."
That path involves the government embracing online apps from the likes of Google, Salesforce.com, and Facebook. All three are now providing apps to federal agencies via Apps.gov, which went live today. According to Kundra, the Department of Energy has already used to portal to acquire applications.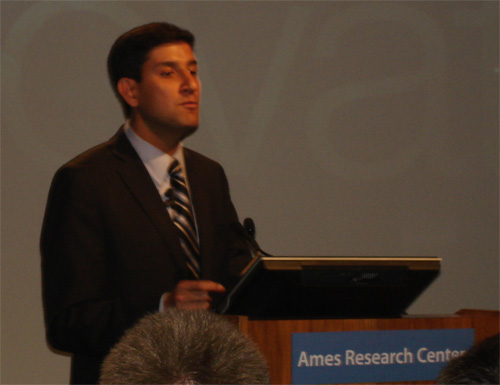 Kundra on a cloud
Kundra says the US government spends more than $20bn a year on infrastructure alone, and the aim is to slash this down to size. As an example of the sort of savings to be had, Kundra cited a recent revamp of the USA.gov website. Traditionally, the US General Services Agency (GSA) would have spent six months on such an upgrade - and $2.5m a year maintaining the site. Using an unnamed cloud-based solution, the upgrade took 24-hours, and the site can be maintained for only $800,000 a year.
But as Google's former global public policy director learned when he joined the Obama transition team last fall, force feeding Web 2.0 to the federal government is no easy task.
One man's kindergarten
"The kind of things that we were trying to do would be regarded as kindergarten-level, rudimentary technology implementations in the Silicon Valley, private-sector, tech-startup kind of world. But in government, they're viewed as a massive revolution in both form and approach," Andrew McLaughlin told Tim 0'Reilly's Web 2.0 conference this spring. McLaughlin has now been appointed as Obama's deputy chief technology officer.
Part of the problem is that government agencies have strict acquisition and procurement rules, privacy and security requirements, and other restrictions ill-suited to free online services in particular and net-based apps in general. Apps.gov seeks to solve some of these issues, providing apps that have been pre-qualified to meet government requirements. In many cases, Kundra said, vendors have amended contracts specifically for use by government agencies.
"Just like you can I can go to online today and buy books and electronics, we want to make sure that we lower the barrier for government agencies to be able to acquire technology," Kundra said. Other apps already available from the Apps.gov storefront include tools from YouTube, the photo-sharing service Flickr, video sharer Vimeo, crowdsourcer IdeaScale, and the PowerPoint-obsessed SlideShare.
Yes, the government will continue to host many apps and much data on its own, but the hope is that it can keep this to a minimum. "We recognize that there are systems that the government must run - own and operate the infrastructure - because they include sensitive information," Kundra said. "But there is a whole class of solutions that we can leverage from outside the government."
And yes, Kundra acknowledges that the government has only begun to iron out existing policy, privacy, and security problems with the move to sky-high computing. "We're challenging the industry also step up and address the some of the security concerns - legitimate concerns - the government has," the country's first CIO said.
Word is that Amazon is pitching a suite of government-centric services slatted for its AWS cloud, but the company was not part of today's announcements. However, Amazon cloud prophet Werner Vogels was ready and waiting with a blog post that went live as Kundra addressed reporters at Ames.
"I am looking forward to working closely with the Federal CIOs [Kundra and GSA CIO Casey Coleman] to make sure our services can meet the requirements that can make them successful in their quest," Vogels said. Loosely translated, that's "Hey. Don't forget about us." But this does indicate that a new Amazon service is imminent. ®